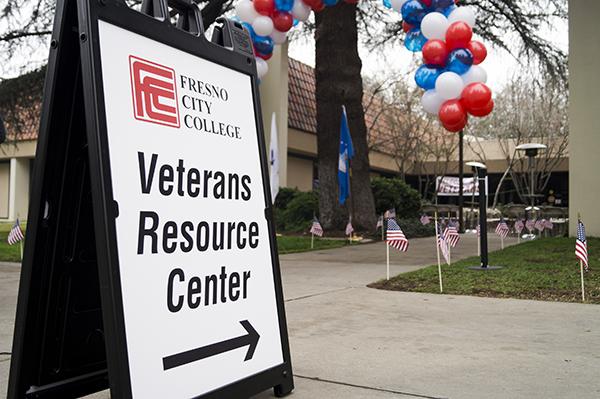 Photo by: Ram Reyes
Fresno City College Holds Veterans Orientation
Fresno City College's Veteran's Fall Orientation and Reception was held in the Old Administration building on Oct. 25.
The event started off by welcoming around 20 veterans. A chicken dinner with a variety of sides and desserts were provided.
Pamphlets were handed out that read, "May we always remember those who served to preserve and defend the freedom that we have today."
Community outreach services for Veterans were also provided, including The Fresno County Veteran's Services Office, the Fresno Vet Center, San Joaquin Valley Veteran's West Care, the Safeway to Work Program, Fresno County Public Library and VA Medical Services.
Educational Resources options were provided and what services they each offer for veterans were announced.  
Disabled Student Programs and Services, the financial aid office, the Veterans Resource Center, Veteran Services Office, Student Activities, Psychological Services, Career and Employment Services and Veterans Club were among the services explained.
Kopi Sotiropulos, an anchorman for KMPH's Great Day morning show, thanked veterans for their service and pictures and videos were taken to be aired on Great Day.
Clarissa Rodriguez, a veteran that attended, said that she felt very comfortable and was able to open up and be herself at the event. The environment was inviting and the information that was given was very helpful, she said.
"Every veteran can relate to one another, and having an event meant for all of us in the same atmosphere is amazing," Rodriguez said. "Maybe there should be two orientations held. One in the morning and one in the evening, that way every veteran can enjoy it."
Mary Alfieris, a Student Personnel Services Assistant at the Department of International Admissions and Veterans Services, talked about the event starting around 18 to 20 years ago and is still to this day standing strong.
Alfieris said many veterans were unaware of the services that are provided for them, so this event opens new doors to many veterans in need. Alferis said a lot of helpful information was given out. "It's very rewarding knowing that we can help and make a difference for our veterans."