Fire Chief Jacob McAfee: A Life Lived in Service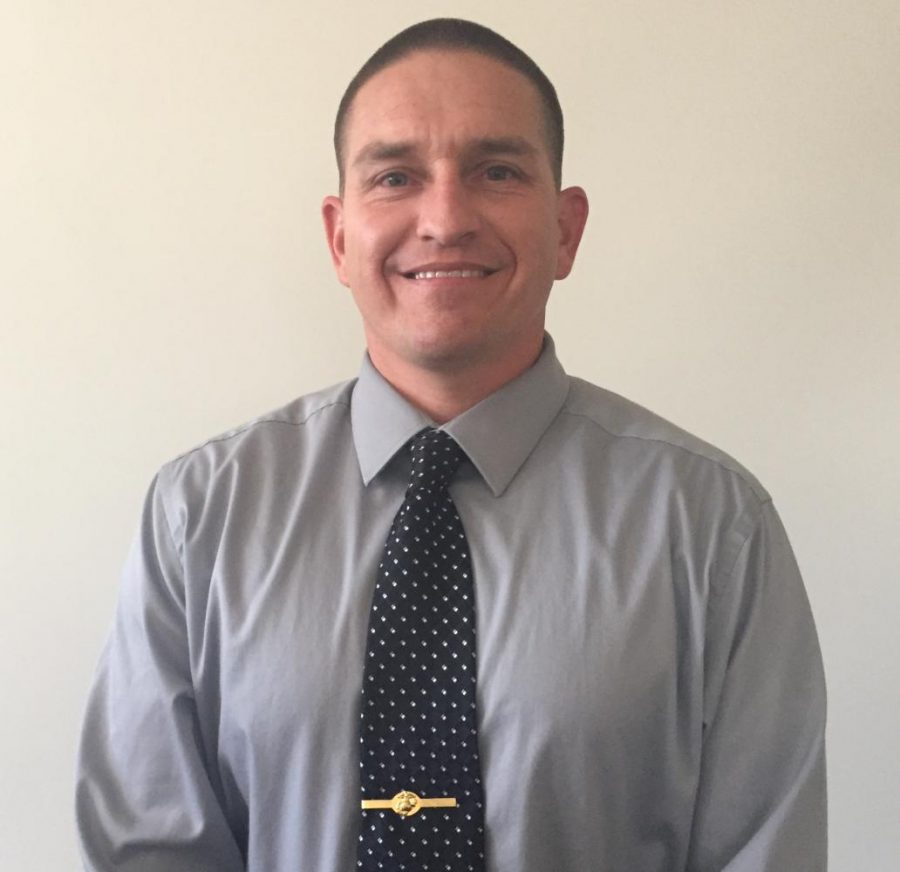 With more than 17 years of experience in the government, ranging from the U.S. Marine Corps to the civilian department of defense, Fire Chief Jacob McAfee is more than qualified for his position as the new director of the Fire Academy at Fresno City College.
McAfee officially started as director of the fire academy on Sept. 15 and describes his transition into academia as "culture shock" and "an avalanche of information."
"I think I've learned a lot from them [the fire academy staff] in these first few weeks, to learn the ins and outs of the academy and what we do," McAfee said. "That allowed me to dig a little deeper to see how we can improve the academy. With the team we have here, with what we're doing, it makes it a lot easier to transition."
McAfee said he looks forward to his career at FCC and inspiring the students of the Fire Academy.
McAfee grew up in Ridgecrest, California, and soon after graduating from Burroughs High School, he went to Bakersfield College to play for their football team. However, his dreams as a football player would soon be swayed. It wasn't long until a friend of McAfee's convinced him to join the U.S. Marine Corps.
"Before I went into the Marine Corps, I was just a college kid who wanted to play football. I didn't really have a drive other than football," McAfee said. "What the Marine Corps did to me was instill their values in me, made me who I am, and started my journey to where I am now."
McAfee enlisted in the military and began his service in December 1999, with firefighting as his primary occupation. He was stationed in Yuma, Arizona for his first four years, and then was deployed to Iraq for Operation Iraqi Freedom.
McAfee says that he was always interested firefighting but never pursued it until he was in the Marines, and that he was happy to be "a part of an organization that prides itself in serving the community and being the best."
"I was always seeking the biggest challenge," said McAfee. "The marine corps was the hardest service to pass; it's the service with the most pride, the most honor, so it just seemed like the biggest challenge."
After his first tour in Iraq, McAfee was stationed in Oceanside, California, for a few years before he returned to Iraq for a second time. Once he had come back from his second tour, McAfee had the goal of getting into the federal government as a firefighter.
"I decided that I was good, I did my time," McAfee said. "I loved it, but my wife was kind of tired of all the deployments and all the traveling."
McAfee started out as a contract firefighter in Palmdale, California, but after six months he got his first federal job as a firefighter at China Lake, California. He served as a firefighter and battalion chief at China Lake for three years, then returned to Palmdale and served as the assistant chief in fire prevention for three years.
McAfee says this provided him with plenty of experience and exposure to the fire prevention side of firefighting, but he wanted to get back into operations.
"I was really passionate about operations and on-the-calls," McAfee said. "So I decided to get back to doing that."
In 2014, McAfee and his wife moved across the country so he could work at the U.S. Military Academy in West Point, New York, as assistant chief of operations.
McAfee worked at West Point for two and a half years, then took a promotion as fire chief at Picatinny Arsenal in New Jersey. After more than a year of working there, he and his wife returned to California.
"Being able to work hard enough and strive for more every day and being able to achieve the rank of fire chief was a crowning moment of my career," McAfee said.
He served as the fire chief at the Naval Air Station Lemoore for approximately six months before he found the opportunity to apply as the director of Fire Academy at FCC.
In addition to his many years of service, McAfee also has his master's degree in both occupational safety and emergency management from Columbia Southern University.
He is also pursuing his doctorate in emergency management through the School of Public Safety Leadership at Capella University.
McAfee's goals for the future of the fire academy include developing a new five-year strategic plan and mission statement, and infusing more of the fire service culture into the academy setting.
"One of the things I enjoy the most is just mentoring, training, and coaching people just to be better in the fire service," McAfee said. "So I thought what better way to do it than in the academy setting, where you get to have some sort of an impact at a younger age and help develop the character and values and skills necessary for them to start their career and be successful."
He also hopes to expand the academy and eventually have Firefighter-2 offered at the school, which is the next level of certification in the career path of a fireman. Currently, the curriculum for Firefighter-2 within the state is still getting approved by the accrediting body.
"The number one highlight in my whole career is knowing that I've impacted people, that I've helped people enough so that they can be better, to strive to do more and achieve more than they thought they could," McAfee said. "The thing I love most about the fire service is that it is similar to the Marines with the camaraderie. It is all about the relationships that you build with people."