Hundreds Protest Trump's Immigrant Ban at Fresno Yosemite International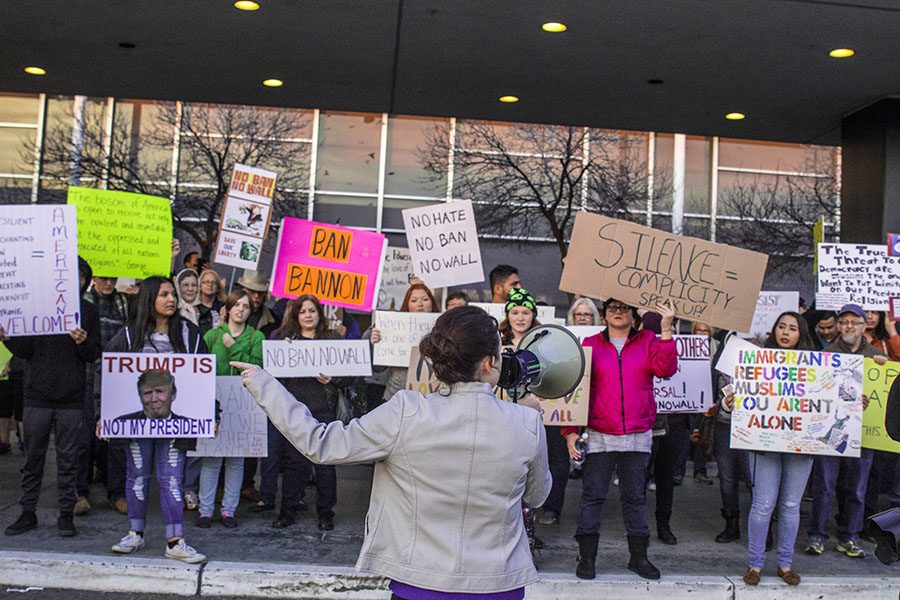 Fresno Yosemite International  saw hundreds of protesters gather in front of the terminal, armed with signs, crowding onto street. Protesters gathered on the corners of Peach and McKinley at around 5 p.m. and began a march down to the airport terminal. Leaving only one lane open for traffic,    where they all gathered to chant and hear messages from people in opposition with the immigration ban.
The protest was one of many across the country in response to the president's recent order banning immigrants from seven predominantly Muslim countries from entering the U.S.  
Protest organizer Rebecca Peerson discussed the importance for Fresno to be a part of this protest like many others across the country.  
"California feeds the rest of the United States," Peerson said. "But, I feel like it's not just enough to feed them with food. We need to feed them with knowledge, we need to show them that we stand by our immigrants, we stand by our farm workers and we stand by our refugees. This is what America is, what you're seeing right here – this is America."
With tears in her eyes, Peerson also brought up her worry for her kids and their friends.
"I want my kids to grow up in a country [where] they don't worry that their best friend is going to be deported. I want my kids to grow up in a country where people are not judged by the smallest things that do not matter."
Peerson saws the reason she marches is to show her support
Peerson, who was a Fleet Marine Force corpsman in the Navy organized the march as a way to show support for Iraqi citizens who protected her during her deployment.
"I am here because an Iraqi put his life on the line for me. My friends are here, my fellow brothers and marines are here because Iraqis risked their lives, [their] family's lives and their homes and their livelihoods to be here. We made promises to them, and if it's with my last dying breath, we will fulfill the promises that were made. My friends did not die for nothing."
State Center Community College District board of Trustees member Miguel Arias said it's important for the Central Valley to take part in this protest.
"The Central Valley, and Fresno in particular, is the perfect example of a community that's made out of immigrants from all across the world," Aria said. "It's very important for us to not let any single group from any single country to be banned from the U.S."
Arias says that this ban can not be allowed to divide the students of Fresno City College.
"As you know Fresno City College has a long history of diversity and inclusion and we can not allow anything like this to come in between us. So our schools and our colleges are going to be doing the same thing we're doing here today, coming together and making sure that everybody feels like Fresno is place for them and so is the U.S."