Student Veterans Carry Invisible Baggage of Wars Without End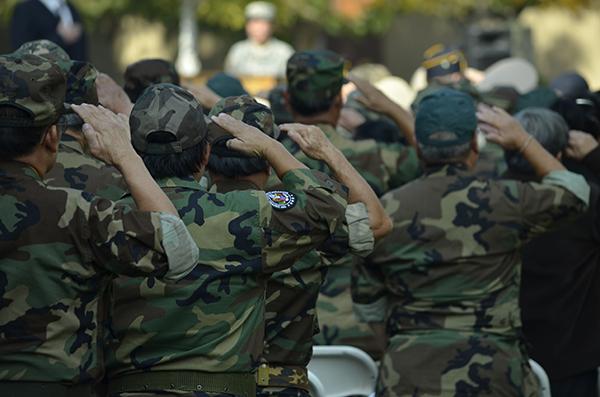 In the Dec. 3 issue of the Rampage, this story states that Mario Reposo suffered injuries including "injured shoulders, broken bones and back problems." The information is inaccurate and has been corrected in the story below.
Mark Sherfy, 26, comes from a place most would never dream of — the U.S. Marine Corps. Orders are strictly followed here, no questions, no arguments.
"If whatever we were working on needed extra hours, then we provided them, no questions asked," Sherfy said.
Most days, he was up  by 5:30 a.m., never knowing what the day would hold or when it would end.
"You didn't have a certain time in which you would be done with work," Sherfy said.
The military life is starkly different from the life he would come home to, an absolutely black and white, from a place where one is told what to do, when to do it and how to do it, to civilian life as a student at Fresno City College, where he is expected to make his own choices about what to do, eat, wear each day or to not make choices at all.
Like thousands of U.S. veterans transitioning back to civilian life, Sherfy faced an excruciatingly difficult process.  This is the adjustment that many veterans must deal with when returning to college or starting college for the first time. Already dealing with mental and physical issues, many veterans face even greater adversity on campus due to many factors, but particularly the lingering nightmares of their experience in the armed forces.
"It's a big adjustment for them," says Mary Alfieri, International Students and Veteran Services Center coordinator. Alfieri says that the type of discipline that veterans are used to is not present in the college classroom which creates difficulties for some of them.
"You come back and it's different," Sherfy said. "It's not what you know" or are used to.
Even though student veterans may be able to blend in with the rest of the student population at FCC, their past experiences are still with them, and they bring it into the classroom, Alfieri said.
"The environment for the veteran on the campus is different; it is an adjustment that they have to make," Alfieri said.  Many veterans experience residuals from noises, bombings and thus, their natural defense is at a peak.
While other students may feel comfortable texting, interrupting or disrespecting the instructor during class, a student veteran may feel uneasy in that situation because he is trained to show full respect and follow complete orders, Alfieri said. "They come to a school environment which is structured to a point, but the discipline that they are used to from the armed forces is not there in the classroom."
She says it may be difficult for the average student to realize they could be causing any harm or creating discomfort to student veterans.
An estimated 492 student veterans take advantage of programs designed to assist veterans in an academic environment at FCC.
According to the California Community Colleges Chancellor's Office, of the roughly 1.8 million veterans residing in the state, about 44,000 utilized a community college education in 2013, not including the 8,000 to 10,000 active duty personnel who annually enroll at community colleges.
The California Community College Chancellor's Office reports that a college education has become an absolute necessity for veterans returning to civilian life, and community colleges provide most of that education since most veterans are ineligible for direct admission into the California State University or University of California systems.
The Veterans Service Center at FCC invests a lot of resources to ensure that student veterans feel comfortable in the college environment and that they do well in their classes.  One of the first things new student veterans must do is complete educational plans, a blueprint to achieve their educational goals — something that is now a state-mandated priority for all college students.
With patience and perseverance, student veterans at FCC, like other students, strive for success even with a few extra obstacles to deal with.
At the International Students and Veterans Services Center at FCC, those assisting with veteran issues are actual veterans who know the circumstances. They tend to the front desk and are the first help that veterans needing help are likely to encounter.  Alfieri said there isn't anyone else as qualified as them.
"They've been on the other side of the counter, so they know the needs, and they can anticipate the questions that students will have," Alfieri said.
Student veterans are encouraged to walk into the bottom floor of the Student Services building and make their way into the international students and veterans center for advice and information — anything from financial aid, tutorial center hours and services as well as admission issues.
Such services were valuable for Mario Reposo, the student veteran counselor at FCC, who himself was a student veteran a few years ago.
When Reposo attended San Diego State University, he struggled to retain much of the information he got in his classes.  He did not have to deal with physical problems other veterans often have to face, but he still admitted to struggling during his college career.
"I was struggling, and that was not something seen by the naked eye," Reposo said.
He persevered and became a counselor for student veterans at FCC.
Whether student veterans are actively seeking help and using it to their advantage, one thing is for sure — the success rate for student veterans at FCC has gradually increased.
Brian Olowude, coordinator of psychological services at FCC said, "They [student veterans] have a higher percentage of success."
However, while veteran students' success rates have increased, it does not leave behind the day-to-day issues. Olowude said that far too often, student veterans are quietly battling some form of syndrome or trauma.
"They first have to admit that it's an issue," says Olowude. As long as a veteran is able to admit that they are battling a form of syndrome or trauma, help and resources will always be at their disposal.
Olowude said that a common syndrome is the Post Traumatic Stress Disorder, better known as PTSD
"PTSD is a very treatable disorder," Olowude said. "If it's recognized early enough and the person seeks help, there can be improvement of getting over that stigma of asking for help."
That stigma of "asking for help" according to Olowude is what prevents many veterans from seeking the much needed care.
At FCC, the fear of seeking help will be a thing of the past, as a resource center designed to meet the needs and assist student veterans on campus is set to open in January of 2015.
"It will be a place for veterans to gather and receive all their services in one place," Olowude says.
So how can the average student help?  Olowude said students should be welcoming to student veterans on campus and also "look at their behaviors in classrooms and try to make it as professional and academic as possible."  He encourages students to seek friendships with veterans, "They have very interesting stories and experiences to share."
About the Writer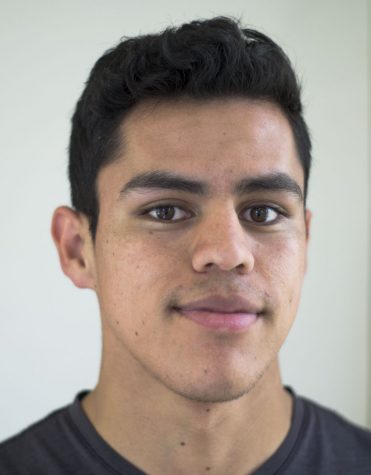 Cresencio Rodriguez, Editor-in-Chief
Cresencio Rodriguez-Delgado has led the Rampage for four semesters as the Editor in Chief. Cresencio joined the Rampage on January 12, 2014 and has reported...