"Yes means yes"
"You betrayed my trust. You destroyed my safe world. And made me question everything."
This is an excerpt from an anonymous poem featured in Karen H. Moseley's Sociology of Rape class textbook. These words are used to describe the emotions of a victim of sexual assault or rape.
Since the United States government introduced the "White House Task Force to Protect Students From Sexual Assault", as reported last semester, there has been much movement to continue the fight against sexual violence on college campuses.
California lawmakers, in May, introduced a measure that would provide public colleges and universities with the necessary funds to set a standard for when "yes means yes."
Five months later, California lawmakers unanimously passed the measure and is expected to be signed by the governor by the end of this month.
This bill would require the governing boards of each community college district in order to receive state funds for student financial assistance, to adopt policies concerning sexual assault, domestic violence, dating violence, and stalking.
Instead of the "no means no" phrase that is associated with sexual assault prevention, the "yes means yes" phrase serves to implement the idea that there will be "affirmative, conscious and voluntary agreement" by each party to engage in sexual activity.
One in four college women report surviving rape and 42 percent of survivors told no one about the rape according to research done by Moseley.
"To hear that in the last ten years that rape has increased on the campuses tenfold to what it was ten years ago, that's scary," Moseley said.
The realities of sexual assault crimes against college students are very rough and can be a very traumatic experience. Moseley says it is so rough that most college students may be surprised to find how close the threat of sexual violence is to them.
"There's a good chance that you're probably sitting in a class with more than three or four victims every time you go to class," Moseley said.
Moseley says that some victims may even be in the same class or room as their attacker.
"It could be your neighbor, it could be your best friend, friends, your classmate," Moseley said.
Fresno City College President, Tony Cantu says that with the help of Prop 39 funds, the college will see more and better lighting on campus which may serve as a catalyst to preventing sexual crimes on campus.
"It's primarily for safety," Cantu said, "We did a walk through and there are parts of the campus that needed some lighting."
Cantu says that student safety was the main factor in lighting up parts of the campus that would otherwise sit in the dark.
But lighting may not always be the issue when it comes to sexual assault on college campuses.
Jessica Jimenez, a social work major and first year student at Fresno City College, says that on her way to her car, she was harassed by a male individual.
The incident occurred in broad daylight.
"I was just walking and they're like hey, hey, hey," Jimenez said, "I just turned around and they're just looking at me, and their like 'you think I'm a stranger?' and I said 'yea I don't know you' and then so he just started following me around."
Jimenez says she didn't feel she should report the incident but says she would have if the male individual had gotten closer to her.
"If he would have done something else, then obviously I would," Jimenez said.
Maria Palomares, a nursing major at FCC, believes the size of the campus contributes to the threat of sexual violence along with other types of violence.
"It might be small but at the same time its really big," Palomares said, "So a security can't be everywhere all the time."
Overall crime is down 50 percent from previous years according to State Center Community College District Police Chief, Bruce Hartmann.
"With the sexual assault, if you're a victim, we take it confidentially," Hartmann said, "We contact you right away, we do everything that we're required to under law."
Hartman also says that if an issue is likely to continue, the district police will make immediate notification on it and "will get timely warnings out all over campus."
About the Writer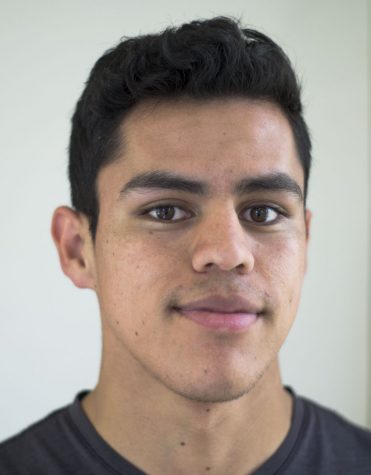 Cresencio Rodriguez, Editor-in-Chief
Cresencio Rodriguez-Delgado has led the Rampage for four semesters as the Editor in Chief. Cresencio joined the Rampage on January 12, 2014 and has reported...