Black Caucus meets at FCC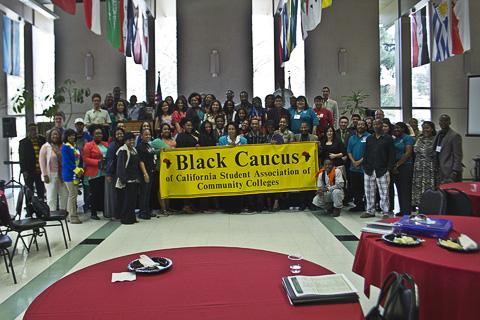 Story By: Tomas Kassahun, Sports Editor
February 20, 2013
Hang on for a minute...we're trying to find some more stories you might like.
The 12th annual Black Caucus Leadership Conference took place at Fresno City College from Feb.15-17. The three-day event included keynote speakers, workshops, career and college fairs as well as vendor tents.
The Black Caucus of California Community Colleges was created in 1999, with the goal of "achieving local and statewide representation of Black students within the California Community College system."
This year's conference was titled "A Call To Commitment: Uniting the People, Shaping a New and Lasting Legacy for African American Students in California Community Colleges."
The conference opened on Friday with a keynote speech from State Center Community College District Chancellor Deborah Blue. On Saturday, the conference continued with workshops and keynote speeches from Marlene Hurd, president of the Black Caucus, as well as hip hop artists Shamako Noble and DLabrie.
Hurd said that she saw a light bulb go off for students at the conference.
"They're realizing everybody can be a leader. You don't have to wait for somebody to lead. All you have to do is put one step in front of you and move forward. We don't have to find leadership. We just do it," said Hurd.
And in a time where students are facing many hurdles including class cuts and financial crises, Hurd says it's time to see the challenges as opportunities.
"Change the challenges into opportunities to change things. Every challenge is a door of opportunity," said Hurd.
She also emphasized the significance of student development in schools today.
"When I was going to school, we didn't have all these cuts. We didn't have all the challenges that we do now. And that's why student development is important," said Hurd. "If you're going to change anything, it's going to take you to do it, not always the government. We can start our own movement today, one student a time, one message at a time."
Hip hop artist DLabrie, who grew up in Oakland facing many obstacles, shared his story of triumph at the conference.
"It means a lot for me to be here because being from Oakland where there is a lot of black struggle, I feel like a representative of that struggle. As an artist, as a rapper and as a community leader, I feel it's important for us to get together and discuss things," said DLabrie.
As a child DLabrie used his love of music and sports to stay out of trouble. He also relied on family, community centers and mentors for guidance. Today he is working with the organization, Hip Hop Congress, to guide the youth in his community.
DLabrie says it's important for the scholars and the people in schools to work with artists and people in the community that still want to go to school but may not see that possibility yet.
"We have to keep that bridge connected, and with our organization that's what we try to do," said DLabrie. "We have community chapters and college chapters and then we connect them with artists. We show them how to use their art to give back to the community. It's important for me to be here so we can share ideas."
For the past four years, FCC has worked with the Black Caucus to bring the conference to Fresno.
"This Is a huge deal. Normally to attend this function you have to go to Northern California or Southern California. It's a big deal for students locally to attend this function," said FCC Associated Student Government adviser Sean Henderson. "[The Black Caucus] had a hard time keeping the organization together due to lack of membership but they have been able to tap into some young talent the past year and they're strong again."
Henderson feels that FCC is the perfect place to host the Black Caucus as it is a place where everybody is welcome.
"We recognize and celebrate everybody so I think this is another way we celebrate the people who make up our community at the appropriate time of the year, right in the middle of African American history month," said Henderson. That's what makes FCC such a cool place to be. We welcome everybody. This is just a manifestation that we believe everybody is equal."