The Fresno Nightcrawler, a celebrated local cryptid or animal not known to exist in nature, was discovered after a grainy recording of security footage was released in 2008 by a Fresno local known only as Jose. The video showed what resembled a pair of white pants crossing a lawn.
Allegedly, Jose was having issues at his home in Southeast Fresno. Dogs were running across his lawn late at night and tearing up his yard, which led to him installing security cameras on his property.
"One night, something happened," Michael Banti, the lead writer for the website WeirdFresno said. "The cameras alerted him to some activity and he watched the footage later, and he saw these creatures, these two-legged things walking across his yard."
Feeling spooked by his discovery, Jose went to the local Univision station to try and find answers.
According to Banti, the station contacted a member of the Mutual UFO Network (MUFON). Someone came down to investigate but ultimately did not find an answer.
Banti has spent a lot of time researching the phenomena. Ultimately the FOX television show "Beyond Belief: Fact or Fiction" contacted him years ago when they came to Fresno, asking for help in their investigation at Woodward Park to try and sight the local cryptids. Unfortunately, they were unable to come across the Nightcrawlers.
The second sighting was in Yosemite in 2011. In grainy security footage, two can be seen taking a stroll late at night. One appeared to be taller than the other, a common sighting among the Nightcrawlers.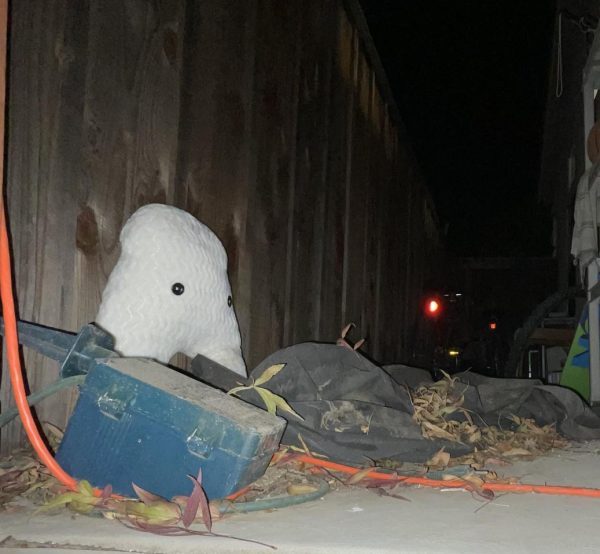 "One looked like it had a cape. I swear I saw it, but like I said, this is the copy of a copy of something," Banti said. "If that's the case, and we're not dealing with, like, some creature, people were like, 'oh, maybe it's an alien.'"
Because the Nightcrawlers are such a phenomenon and so little is known about them, theories have been created over the years.
Banti said locals will sometimes refer to them as the "Fresno Aliens," since they resemble something of the sort.
Another popular theory, that was eventually debunked, was the claim the Nightcrawlers were part of local Native American lore because of supposed wood carvings.
"I've seen pictures of these 'carvings,' and they do look like what the nightcrawlers are said to look like. But doing some image searching and whatnot, I traced them back to Brazil," Banti said.
Even though it's a local phenomenon, these walking-pant cryptids have become as beloved by some as the Lochness Monster (Nessie), Mothman and Bigfoot.
Although cryptids are usually seen as scary, this Nightcrawler is seen as cute because it is deemed to be only a few feet tall and there have been no allegations of violence. On Etsy, there are hundreds of items themed after them.
Regardless of the lack of evidence, Fresno locals have welcomed this cryptid with loving open arms. Last October, ArtHop was themed after the Fresno Nightcrawler, with vendors selling cryptid plush, jewelry, and all kinds of art.
"And it's funny cause I have friends, like, all over the country that are involved with the paranormal, mostly ghost hunting and UFOs. But some of the cryptid stuff, too," Banti said. "Everybody knows about the Fresno Nightcrawler. It's interesting. Like, we're known for it."
This article was updated to correct Michael Banti's name on Nov. 6, previously spelled as Michael Banty.
Story continues below advertisement