The Big Lebowski Turns 25!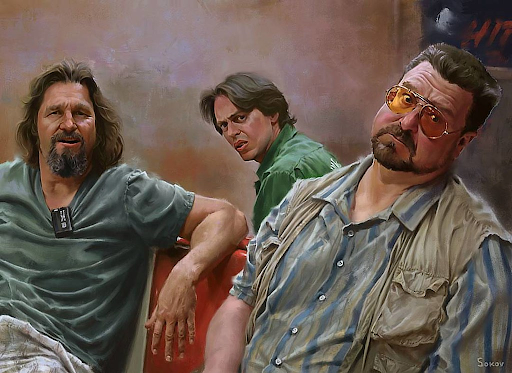 On March 6, 1998, The Big Lebowski was released in theaters. This week marks the 25th anniversary of the cult classic. At first when it was released, it had mixed reviews, but as the years progressed, people now consider it a comedic masterpiece. 
This movie's story turns a straightforward premise into a hilarious misadventure. In Los Angeles, a lazy bowling ball player named Jeff "The Dude" Lebowski and his army-veteran friend named Walter Sobchak are asked to help a millionaire also named Jeffrey Lebowski to deliver a brief case filled with ransom money to a group of nihilists that kidnapped his trophy wife named Bunny Lebowski. Meanwhile, The Dude and Walter have other plans in mind. 
The characters are funny and memorable. Jeff Bridges' Dude is my favorite character out of all of them; he is a slacker who is not civilized but he has a kind heart. As the story progresses, he does become smarter as he figures out the mystery of the Bunny's kidnapping.
 John Goodman's Walter Sobchak is an ill-tempered but assertive war-veteran that helps the Dude out on the kidnap recovery mission. Additionally, he has this hilarious running gag on how every problem in the world must relate to the Vietnam War and chastises their soft spoken friend, Donny.
The jokes and running gags are outstanding and hilarious. I had a few slight headaches from laughing at this movie. My favorite parts are when the nihilists broke into the Dude's apartment as he is taking a bath and throw a wild ferret at him, Walter destroying a person's car thinking it belonged to their suspect, and the comedic battle between the Dude and Walter Sobchak versus the nihilists. 
Finally, let us talk about whose performances were the greatest in this movie. Jeff Bridges' performance as the Dude was great; he does an excellent job of acting like a slack who only complains about his apartment getting vandalized by thugs. John Goodman's performance as Walter Sobchak was hilarious; his aggressive delivery to any given situation is brilliant. David Huddleston as Jeffery Lebowski is underrated; he sounds so confident and proud of his position of being a millionaire despite his previous injuries in the Korean War.
Overall, it is a brilliant and hilarious movie. It is now on the wall of my favorite movies of all time. I give this movie 5 stars.