The Greatest Album of All Time Belongs to the King of Pop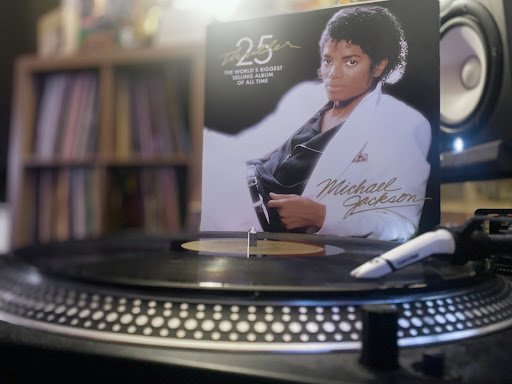 In this week's Rampage critical music review I decided to do the best-selling album of all time Michael Jackson's "Thriller" released November 30, 1982. This album is highlighted by some of his greatest hits including "Billie Jean" and "Beat It." 
Thriller was Jackson's second album as a solo artist and the most recognizable album of his career. Jackson had some pressure on him with the release of Thriller as he had to follow up his excellent 1979 album "Off the Wall" which had tons of success getting four hits on the Billboard Hot 100. 
There was a three-year gap between the two iconic albums and the times had changed from the '70s, as Jackson went from the afro to the Jheri curl. Not only did his appearance change, but the sound changed also. Jackson was fit for the challenge as he had been developing his music in the spotlight since the young age of 8 years old singing for the Jackson 5, a family group. 
Disco, the sound used in Jackson's previous album, was on its way out and people wondered how he would adapt to the new '80s sound of pop. When "Thriller" was released, it was a huge hit and Jackson became a staple of the newest sound. 
This album lives up to all the hype with a track list of nine songs that work perfectly together. Jackson has it all within this album with the up-tempo and slower tracks. The up-tempo songs in this album such as Billie Jean, Baby Be Mine, P.Y.T, Beat It, and Wanna Be Startin' Something are great songs that can get stuck in your head for days. Those songs are exciting and will get you attempting to dance like Jackson himself. 
The slower songs in this album include The Girl Is Mine, Human Nature, and The Lady in My Life. These three songs showcase Jackson's beautiful voice with the high and low notes he hits. It felt like a mature Jackson singing about love and life, songs that everyone can relate to. Jackson in the song Girl Is Mine had his only feature of the album which was from legendary Beatles member Paul McCartney.
My only hot take from this album is the title song itself, Thriller. A song that is extremely hyped up reaching #4 on the Billboard Hot 100. This song, in my opinion, is just a corny Halloween song. The reason the song became so popular to me was because of the music video that gets lots of praise, even today reaching over 882 million views on YouTube.  
The praise this album gets is well deserved as not only was this album successful, but it also catapulted Jackson's career. The success of Thriller led to Jackson being crowned the King of Pop.