Get Spooked with FCC's Annual Fall Carnival and Haunted House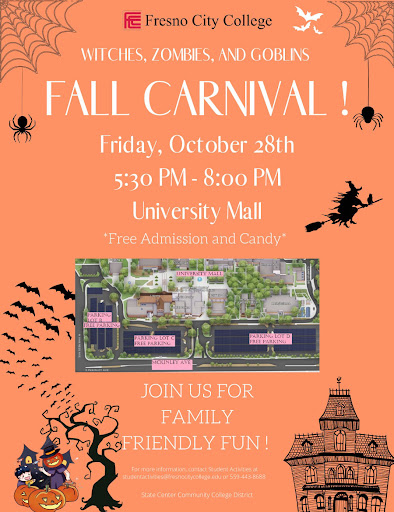 Fresno City College is holding its annual Fall Carnival on Friday Oct. 28 from 5:30 p.m. to 8 p.m., but it may look a little different from previous carnivals. 
The FCC Fall Carnival is a free community event for students, families and children to come out and enjoy some seasonal festivities.
This year the event, which is traditionally held at Ratcliffe Stadium, will take place at FCC's University Mall, stretching from the front of the Library to Yokuts Plaza located outside of the music/speech building according to student activities official Maile Martin.
The reason the fall festival was moved from its traditional location is a combination of space and circumstance. 
"We have a long tradition of holding the fall carnival over at Ratcliffe stadium, and because of the pandemic we didn't have it for a couple of years," Martin said. "Last year we put it as a drive-thru event in the parking lot, which was hugely successful because parents didn't have anywhere to take their kids; so from 5:30 p.m. to 8 p.m. the cars never stopped." 
With face-to-face classes having returned, the student activities center felt it was best to move the carnival on campus. 
"This year we've moved it to our University Mall because honestly we've outgrown Ratcliffe just a bit and we are trying to encourage more people to come," said Student Activities worker Heather Gray. 
The fall carnival will include a haunted house hosted by the Associated Student Government,  performances from FCC's cheer team, science exhibits and several food trucks. 
Other activities will include carnival games, live DJ performances and a photo booth. 
Guests can park for free on campus during the event.