Caleb Duarte's Monument as Living Memory Part of FCC Faculty Biennial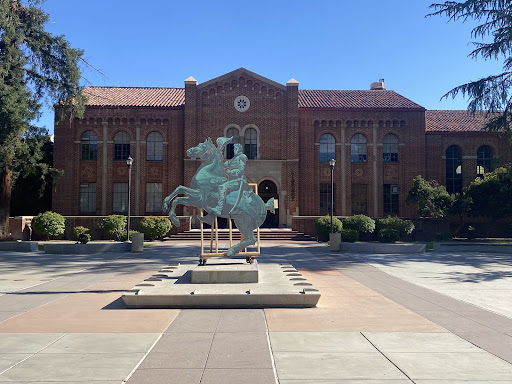 Monument as Living Memory, a painted wall-turned-sculpture by Caleb Duarte and dozens of others, is one of the larger works of art on display at the 2022 Fresno City College Art Department's Faculty Biennial.
Duarte, professor of sculpture at FCC, was chosen to create a mural for the Yerba Buena Center for the Arts (YCBA) in San Francisco, just before COVID-19 began spreading in the U.S.
In the midst of the pandemic and the uprising against police brutality in summer 2020, he was inspired by the art created on boards used to protect businesses.
People began to "paint these boards with graffiti, with figures, with images, and became very vibrant, very colorful. It showed a different face of the protests, through an artistic lens," he said.
Instead of creating a mural, he took down the YCBA building's 20-foot tall advertising billboard "to demonstrate the closure of institutions, the reimagining of how institutions should work," and put a plywood wall in its place to be a canvas. 
His goals were to make it a living work of art, as it was constantly dramatically altered and changed, and to bring in people usually unrepresented in the art world.
"I started to invite artist collectives that aren't part of the 'higher art' world. Tattoo artists, graffiti artists, educators, community members… for two years I invited different collectives and artists to paint over the wall," Duarte said. "There's layers of images on top of each other."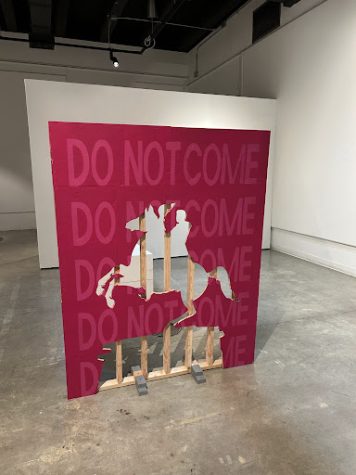 This iteration is a sculpture cut out of the wall, depicting former president Andrew Jackson on a horse painted along with indigenous youth from Guatemala. The depiction is surrounded by the words told to Guatemalans by Vice President Kamala Harris in June 2021, "Do not come."
"He signed the Native American Removal Act that caused the Trail of Tears where thousands of Native Americans had to march, and then we have Kamala Harris telling Guatemalans that they don't have a right to seek asylum. So I kind of mirrored these things as a memory," Duarte said.
The intent was "not to vilify people or condemn," but to bring light to how fast the news cycle moves, and "how it disappears really quickly, even though it affects a lot of people."
As a replica is displayed in the gallery, the sculpture is frequently being moved around on campus, unlike the monuments toppled during summer 2020.
"It's a daily kind of practice of engagement rather than a solid statue that tells us what to remember, and when to remember it, right? And so that's why we moved the statue around because it's an engagement with that collective memory," Duarte said. 
Recently, the sculpture was likely accidentally hit with a ball near the Veterans Peace Memorial, and the head broke off. He is repairing it, but he's not concerned about the damage.
"That's part of the unpermanency of this type of work, and so a lot of times we make art that doesn't last long. We set it on fire, we change it. So we're also thinking about art as temporary," he said. "It's always changing with us." 
The Faculty Biennial is located in Art Space Gallery AH 101. It is open from 10:30 a.m. to 3:30 p.m. Mondays through Thursdays until Nov. 4.