Fresno City College Honors Victims of 9/11 Nearing 21st Anniversary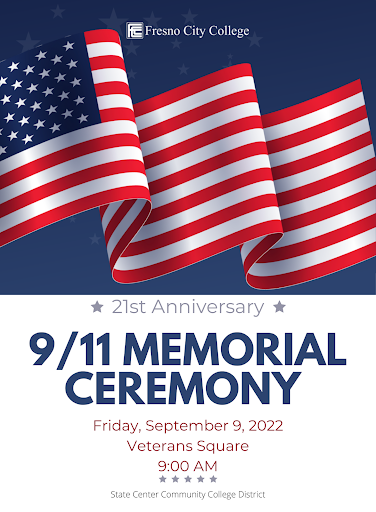 On Friday September 9, nearly 21 years after the nation was shocked by the tragic events of Sept. 11, students and staff from Fresno City College and FCC's Fire Academy will hold a memorial exhibit ceremony on campus to honor the victims and firefighters lost.
The event will take place from 9 to 10 a.m. in Veterans Square and will feature a keynote speech from Tulare County Fire Chief Michael Ott as well as a traditional firefighter bell ceremony, according to FCC Student Activities Program Specialist Maile Martin. 
"I think it's important for students to be aware of our past so we know going into our future what's happening," Martin said. "We need to know our history."
The event will feature the initial firefighter dispatch made on 9/11 as well as a display of newspaper clippings of the following day. The memorial will also be led off by a traditional bagpipe performance followed by a wreathing ceremony where students will have a chance to view FCC's new fire engine that will be used as a backdrop for the event. 
Not all, but most college juniors were born after 9/11, said Fire Academy director Peter Cacossa, who will be the event's master of ceremony.  
The reason we celebrate firefighters is because of the 343 firefighters who were lost on that day (F.D.N.Y) and the "big thing" is remembering, said Cacossa.
Cacossa mentioned how his grandfather, a World War II veteran, would often talk about Pearl Harbor and how many don't remember the event as often as they used to.
"It's not something that we necessarily need to be emotional about but just to be able to educate future generations to say 'Hey this happened, and this is what we learned from it and this is how we make ourselves better as a country,'" Cacossa said. 
Students, or anyone who is interested in learning more about FCC's Fire Academy, can visit FCC's website and click on Fire Technologies under the Academics tab or click the following link.