Cinco de Mayo Celebration with FCC Club Rush
Fresno City College celebrated Cinco de Mayo by having a club rush that allowed students to join clubs for the next semester along with live entertainment.
Roughly 80 people attended to look at the clubs booths or get free food that was provided by the Ram Pantry.
In total there were 10 clubs that participated in the club rush. 
The clubs included the Adventure Club, Catholic Student Association, FCC Student Paralegal Association, Associated Government, Planned Parenthood Generation Action, Early Childhood Educators and Education Club, LFSA Culture Committee, Society of Women Engineers, Muslim Student Association and All of Us or None Club.
Danielle Speth is a child development major who decided to join the Early Childhood Educator and Education Club.
Mato Vargas, an economics major and first-time freshman, also came to the club rush. 
"I actually came out in support of the Muslim Student Association, because a friend of mine invited me to check it out and it's awesome," Vargas said.
Health Services, Psychological Services, Student Activities and Rising Scholars program were also at the event to bring information to students about their services.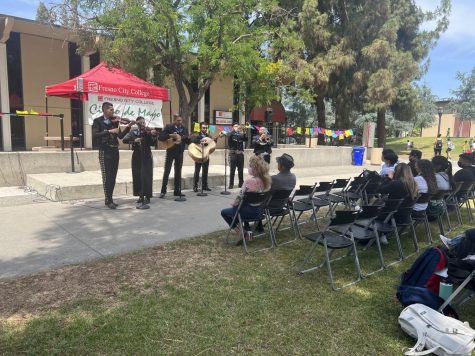 The Cinco de Mayo celebration also had a mariachi band play for the campus at noon, which brought in a larger crowd at the time.
The last activity for the day was at 12:30 p.m. when the LFSA Culture Committee hosted Loteria for students to play digital.