The Sound of Spring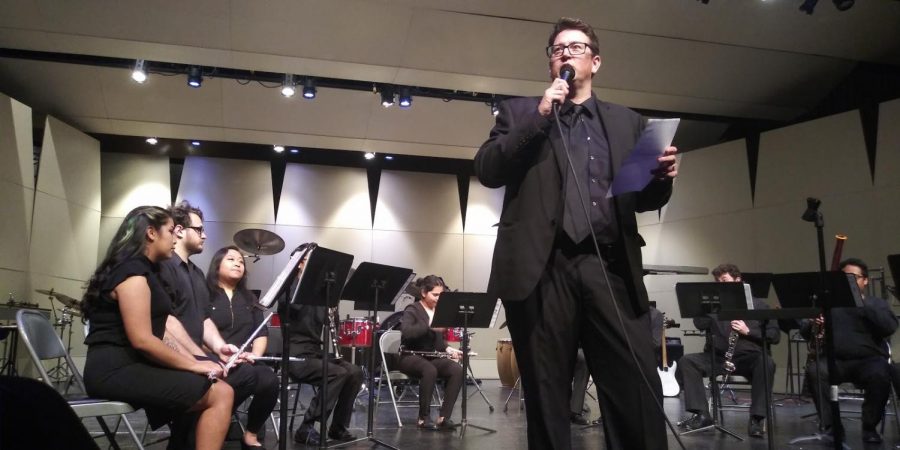 The Chamber Winds and Percussion proudly presented the Spring Concert to the Fresno City College faculty, students and families on Tuesday, April 30. With three different ensembles, the end of the spring concert could only be as lively and lovely as it was made out to be.
The FCC Woodwind Ensemble, Brass Ensemble and Percussion Ensemble expressed how ready they were before the performance even began.
"This is our end of semester performance which features our chamber ensembles and woodwind, brass and percussion," Elisha Wilson, director of bands, brass and music theory, said. "We practice for an entire semester and periodically perform for each other throughout the semester."
After a silly introduction by Paul Lucckesi, director of jazz studies and woodwind instructor, regarding cell phones, the magic began. The ensemble included flutes, soprano clarinets, alto clarinet, bass clarinet and bassoon. This collection of students performed pieces such as "Courante" by Michael Praetorius and "Finale" by the infamous Wolfgang Amadeus Mozart.
Next to play was the FCC Brass Ensemble conducted by Wilson. "I will be playing with my students to support them," said Wilson, "I'll be playing horn on one of the pieces."
Wilson is lively for the audience, explaining each piece as they were played. Even going as far as to play along with her students.
This ensemble contained tubas, horns, trumpets, a trombone and a baritone. Before their last piece, "Pizza Party" by Harold L. Walters, Wilson expresses her pride towards her students and, in an emotional and moving moment, said goodbye to two of her students who will be transferring.
"Pizza Party," a more upbeat tune, seems to lift the audience's spirit again.
Last but certainly not least was the FCC Percussion Ensemble, conducted by Joe Lizama, the FCC percussion instructor. He provided historical context for each piece. The small ensemble had each student with at least two or more instruments.
They gave liveliness to each piece while expressing how usually difficult these pieces are but the percussion ensemble has managed to pull through with instruments most of them haven't even heard of. With an extravagant and upbeat "Descarga Sandia" the Spring Concert comes to an end with a round of applause from the audience.
Wilson was also happy to announce that they had been invited to Carnie Hall which is a $100,000 trip. A fundraiser will be held on Saturday, May 11, in which the band will sell mattresses at 50 percent off. Flyers have been placed all over FCC with other details about the 1st FCC Annual Mattress Fundraiser. Every purchase benefits the band.
Despite the separation of each ensemble, it is very clear that this group of musicians are more than just students and teachers but family. "We have this really vibrant program where we totally support each other," Wilson said. "The faculty is really close like a family and the students are a part of that. Here there is a really special tight-knit bond."