Asian Festival a Celebration of Asian Culture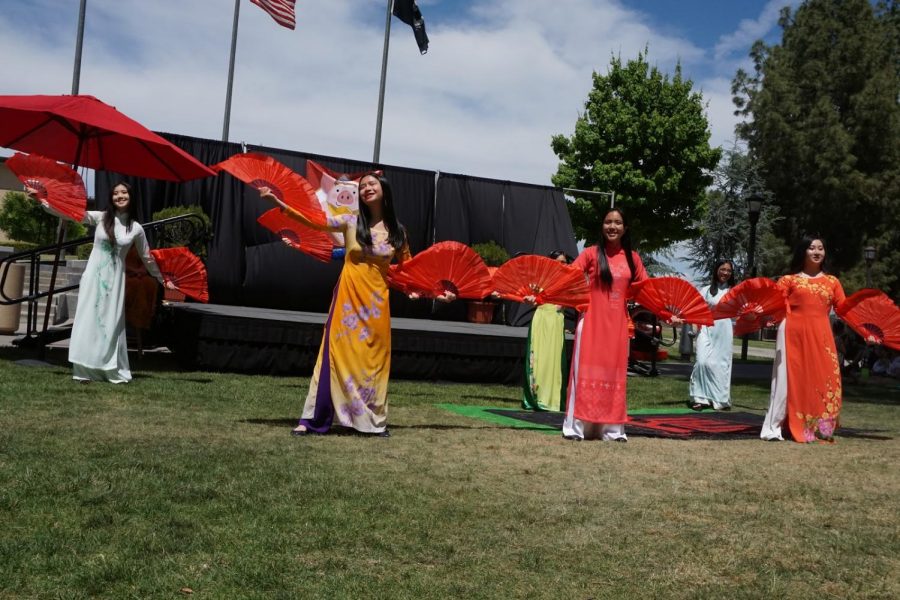 Asian Fest is a spectacular event for the community to celebrate Asian cultures that offered delicious food, magnificent dancing, fun games, cosplay, martial arts, and the Sake garden to help scholarships on Saturday, April 27.  
The event held over 300 performances at the north water fountain.
The show kicked off with a variety of cultural dances, with two children playing the Chinese Guzheng, which is an instrument that combines both piano and guitar elements together. Sikh martial arts was also on display during the event, and an Asian clothing fashion show was featured as well.  
Sikh's martial arts instructor, Manhgal Kur, explained the history behind martial arts and weapons of the Sikh. Children may begin training around five or six years of age, and begin using weapons like swords and shields when they turn 10 or 11.
Male and female martial artists wear different types of clothes when fighting. "Females have more modest clothing to cover them more than men," said Kur, which includes leggings and headwear called Chiou.  
Asian Fest includes a variety of food from different cultures like Sikh, Chinese, Hmong, Japanese, and Vietnamese. Omar Lemus, a participant who has been going to Asian Fest for three years, enjoys the number of highlighted cultures and food.
For those interested in attending the event, Lemus has a tip for you: "Bring an appetite because you could find anything that you would like."
Showcased at the main stage were Red Dragon martial arts, Asian cultural dancing, and cosplay. Among the group of performers were the Polynesian Club of Fresno, which consists of dancers with ages ranging from five-years-old to 80. Martha Leina'ala Kuma, Polynesian Club of Fresno Leader, explained the history of the club. The group was made because her father wanted his children to remember where they came from and share their culture with Fresno.
A cosplay contest also took place during the event at the main stage which featured a variety of characters from video games, cartoons, comics and so much more. The contest included two separate groups: The first for children who dressed up as Supergirl, Rainbow Dash from "My Little Pony,"  Goku from "Dragon Ball," and Ladybug from "Miraculous Ladybug."
The second involved adults, and many of them dressed as characters from the anime "My Hero Academia," Zelda from "The Legend of Zelda," and Princess Allura from "Voltron."
Asian Fest has implemented a new fund raising venture called Sake Garden which helped raise money for student scholarships, according to Michael Takeda, English instructor. "One of the hard things this year is to raise awareness," because the initiative is brand new, said Takeda. The location of the Sake Garden was inside of the Ram Pantry, and they sold alcoholic beverages from Japan and other cultures.    
At first, Asian Fest was small and consisted of "one food booth," said Maile Martin, senior program specialists and Asian Fest director.
When Martin took charge of the event, she made it bigger by getting sponsorships like student activities, Toyota, Central Valley Asian Pacific Group, EECU and many more to help Asian Fest get more recognition and money.