Tioga Sequoia Hosts 4Th Tim Burton Tribute Art Show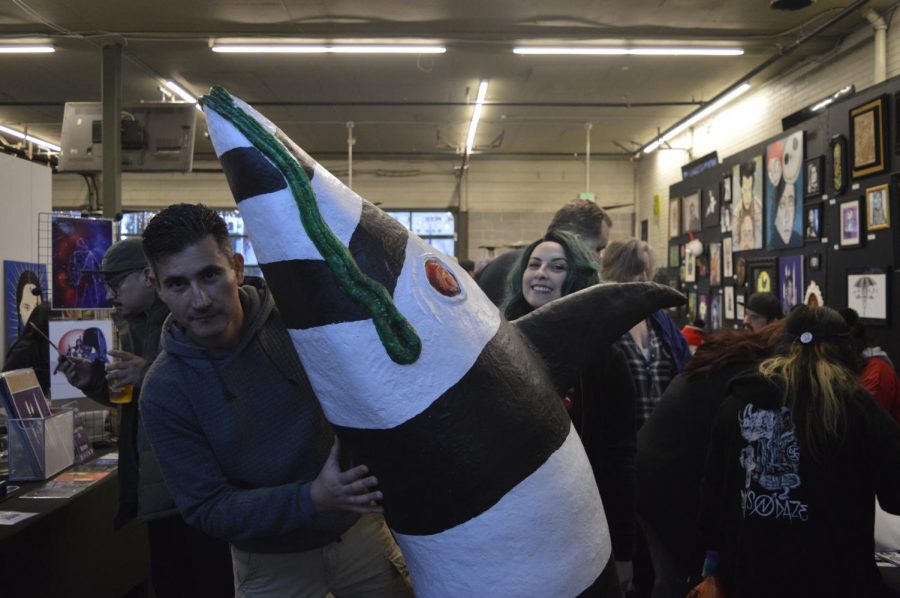 Fans of Tim Burton were treated to an art show on Saturday March 2, organized by Henry Contreras of the Fresno Underground Art Collective.
Tioga Sequoia in downtown Fresno was filled with not just fans of Tim Burton's art, but vendors, artists showcasing their work, as well as fans of his eclectic style that appeals to our dark and sinister side while still reminding us of our inner child.
Open to all ages, catering trucks were on hand providing tacos, and for those of drinking age a selection of unique cold drafts were supplied by Tioga Sequoia.
Attendees gathered to see the collection being showcased by various local artists using a variety of materials from oil, acrylic, screenprints, and even sculpture. All were there to share how Burton's works inspired their lives.
Each of the 17 artists were carefully selected for their individual style and flare for the event by Henry Contreras, a long-time Burton fan himself since watching the 1982 short film entitled "Vincent." "I have to have that reaction. I have to see it and go, 'Whoa, that's nice," said Contreras.
Henry and and his wife Juliet were both there, not just displaying their work but selling her beaded jewelry and screenprints, while other artists like Caroline Vecchio sold prints of various sizes as well as cards.
Caroline and her husband David, who are veterans to the event, showcased their various art pieces both on canvas and sculpture, including a 5 foot tall sandworm. Inspired by her father who was an artist himself, Caroline has been a fan since watching the 1988 film "Beetlejuice."
Other artists like Brandy Medina, who is contributing for her first time to the event, recalls being a Burton fan since she was a kid. Medina's work was displayed mostly in acrylic. But prints of her work were on hand for those interested for purchase.
"I've been a Tim Burton fan since 'Pee-Wee's Big Adventure,' it was one of his first movies, back when he was working for Warner [Bros]. A lot of people don't realize that," tattoo artist Zoombie Laurel said. He operates a local tattoo studio called Zoombie Nation between the Tower District and downtown Fresno.
Regardless of the canvas used, whether it was oil, acrylic, or skin, each artist brought their own individuality to the event, uniting everyone through their enjoyment of Burton's list of works, style, tacos, and cold beer, and showing how one artist can inspire so many more, and ourselves through his work.