Latin Grammys Veterans And Newcomers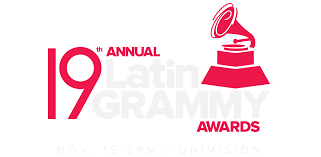 Story By: Margarita Albarran, Reporter
November 7, 2018
The 19th annual Latin Grammy's will take place Nov. 15, which will mark an important day for music. More specifically, Latin American music.
It's a night in which Latin artists from all over the world come together to celebrate and recognize the excellence of Latin music, both Spanish and Portuguese.
The Latin Grammy's are the only Latin music awards given by colleagues. "This year there were a total of 14,000 products registered in 49 categories," according to an official statement from the Latin Recording Academy.
The Latin Grammy's mark one of many nominations such as: Uruguay rock band, No Te Va Gustar. This year marks their seventh nomination, and they are nominated for best rock album, "Suenan Las Alarmas."
NTVG describes their music as folklorico rock. The band is embracing this nomination with "solidity and elegance that the band has built for over more then two decades of trajectory between songs, albums, collaborations, concerts, and tours." as stated by their statement release.
"In the moment no, we weren't thinking about a possible nomination. We were focused on the art first. Everything after is a blessing," says Francisco Nassar,  from No Te Va Gustar.
This is new turf in the case of Spanish pop rock band Vetusta Morla. The band is nominated for three Grammys; best alternative album for "Mismo Sitio Distinto Lugar," best album packaging, and best alternative song for "Consejo de Sabios."
Vetusta Morla released "Mismo Sitio Distinto Lugar" which translates to "same place different location."
Within the first week, Vetusta Morla's album had reached number one on the sales chart in Spain both in digital and physical format. A month later, the album received a gold record after selling over 20,000 copies.
"Consejo de Sabios" is one of the 10 tracks on their album. "We wanted to experiment; to play with the ambiance and rhythms. Structurally, we broke the song in two, just as it breaks in the story. It's a story that develops parallel to the music," says, Guillermo Galvan.
Although these two bands represent different experiences with the Grammy's, they share one thing in common, and that is their excitement about being nominated.  However, for Vetusta Morla it was a different kind of excitement when Alvaro B. Baglietto described the nomination as an honor and an "open door" to other Latin countries..
Make sure to check out the Latin Grammy's on Nov. 15 on Univision.