What We Know About American Horror Story Apocalypse So Far
Hang on for a minute...we're trying to find some more stories you might like.
American Horror Story kicks off its eighth season premiere "Apocalypse" tonight, Sept. 12. at 10 p.m. PST on FX.

So far all fans know about Apocalypse is that creator Ryan Murphy will be blending season one "Murder House" and season three "Coven." According to it's trailer, the new season will give viewers finishing story lines to the first and third seasons while intertwining both seasons characters.

Jessica Lange (Constance and Fiona Goode) will make her anticipated return to AHS after her departure in season four "Freak Show."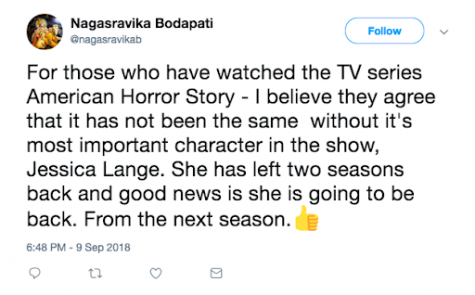 Photo by: Photo By Twitter

Fan ‪@nagasravikab took to Twitter saying "‬For those who have watched the TV series American Horror Story – I believe they agree that it has not been the same  without its most important character in the show, Jessica Lange. She has left two seasons back and good news is she is going to be back."
To add on to the excitement, Sarah Paulson cast member of AHS since season one, will not only be playing three main roles Billie Howard, Cordelia Foxx and Wilhemina Venable, but she will also make her debut as a director on AHS episode six.

Murphy shared a sneak peek with fans via twitter ‪@MrRPMurphy‬ on Aug. 25. "Connie, Sarah and Dylan. The Harmon's are scaring up drama at The Murder House with Director Supreme Paulson."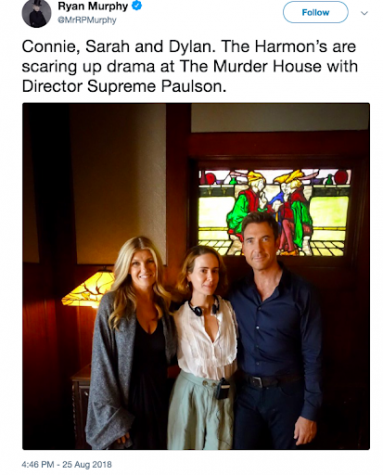 Photo by: Photo Via Twitter @MrRPMurphy
Other returning cast members include Connie Britton (Vivien Harmon), Lily Rabe (Misty Day, Nora), Angela Bassett (Marie Laveau), Taissa Farmiga (Violet Harmon, Zoe Benson) Denis O' Hare (Larry Harvey, Spalding) Evan Peters (Tate Langdon, Kyle Spencer)

According to fan on Twitter @sween613  "It's been a long time since I've been excited for a season of American Horror Story, but this one looks pretty good.
AHS apocalypse will air every Wednesday at 10 p.m. PT on FX for 13 episodes.