Manchester Mall Renovations Bring More Options for FCC Students
A lot of changes are taking place at Fresno's Manchester Center in 2018. With its location in the heart of central Fresno, it's easily accessible to the community, including students at Fresno City College.
The mall, which has been in business for over 60 years, is adding a plethora of new tenants to the New Manchester project, according to Ominent Capital, the center's owner,
Morel Bagunu, general manager of the mall, has been a part of the New Manchester project for six years and says he understands the role it plays for people in the community as well as the advantages of the center's location.
"We sit on some of the best real estate in the city," said Bagunu. "We knew that we could revitalize the shopping center and bring the customers back to our tenants because of that."
Not everyone is optimistic about the success of the project. Kelvaughn Few, a sophomore at FCC, said, "The renovations being done at Manchester look well, but I don't think it's going to give that flare back."
To bring some of that flare back, the project consists of an entirely new entrance, a renovation of the whole exterior facade and a two story dining court. Other plans include an outdoor plaza for concerts, art shows, and weekly farmers market.
Other FCC students say they are excited about the New Manchester plans. "The renovations being done to Manchester are great and long overdue," Briana Maxwell, a sophomore, said.  "We need better food choices between classes because right now all we have is crappy, greasy fast food places."
With the help of local food trucks like Yummyz Street Treats and popular restaurants like Rocket Dog Gourmet Brats & Brew, the dining experience at Manchester is going to give students more food options between classes.
The food court is going to be transformed into an area called the Marketplace, which will be home to food trucks that Bagunu says "are creating a brick and mortar space for themselves."
A large part of bringing life back to Manchester had to do with getting international tenants south of Shaw Avenue, Bagunu says.
With the addition of the already up and running Habit Burger, Chipotle, and Rita's Italian Ice, Central Fresno can finally get a taste of some of the well-known eateries the city has to offer.
"Now you have three different places where you've never had the chance to eat before," Bagunu said. "People still neglect that Starbucks, Panda Express and Deli Delicious are on the property as well. That is also a part of Manchester."
The rebirth of Manchester can also help students financially.
New tenants moving into center will open up more employment availability and at a good speed. "Habit Burger has hired 30 new people, and Chipotle has hired 15 to 20 new people," Bagunu said. "It will continue to grow as more businesses open."
Construction schedules make it hard to nail a date, but Bagunu said the New Manchester will be worth the wait. "When we finish our whole renovation," he said, "they're gonna find this place an extremely pleasurable place to be."
About the Writer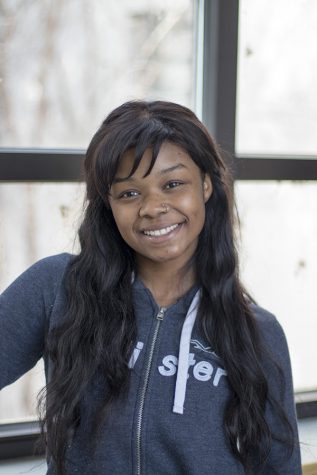 Sasha Saunders, Reporter
Sasha Saunders was born in San Francisco, California in 1998. She lived in various locations around Oakland up until the age of 3 when her mother, who...