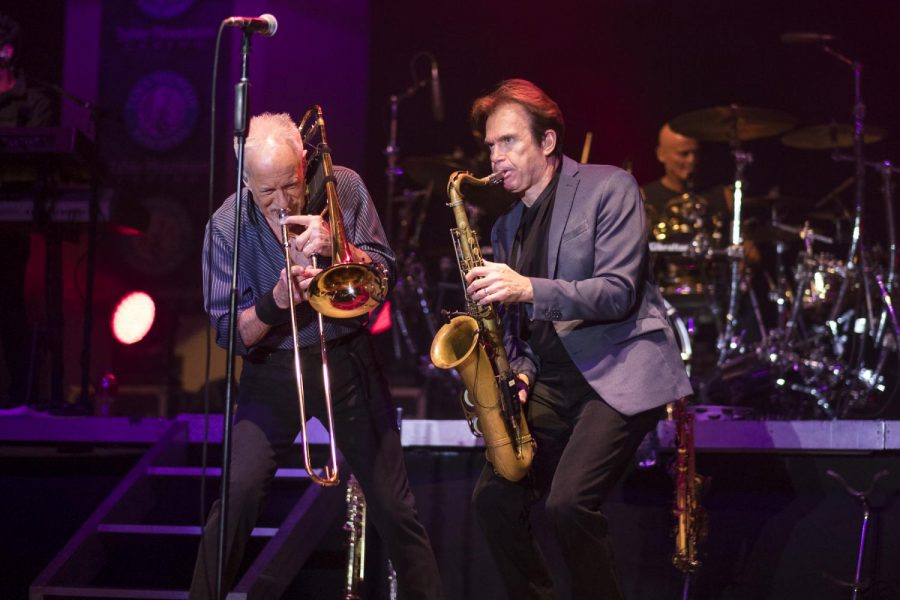 Photo by: Ram Reyes
'Chicago': Night of a Thousand Sounds
October 8, 2017
Chicago brought their incredibly diverse brand of rock to the Fresno Fair's Paul Paul Theater Friday, Oct. 6.
Nine musicians took the stage playing over 13 instruments among them in a 90-minute orchestral-like concert.
With brass instruments like the trombone, bugle, trumpet and saxophone, Chicago put on an enormous show for die-hard fans.
The show also featured two acoustic guitars, at least three different bass and electric guitars, two sets of drums, four keyboards and up to five people singing at once.
The band has been making music for 50 years and still has three of the original founding members touring today.
They have built an immense and dedicated fan base that definitely showed Friday night. Fresno's Paul Paul theater was filled to the brim with Chicago fans.
Mike Bradford traveled to Fresno for the first time in his life from Los Angeles to hear the band play.
"It was just like the record, which is what I wanted to hear," Bradford said following the concert.
The show offered much more than the band's trademarked sounds that night.
The use of bright and colored lights during upbeat songs as well as the subtle use of spotlights during the many guitar, trombone, trumpet, bass and drum solos made for a unique visual spectacle.
The band members also gave the show a bit of flair by calling for audience interaction to liven the atmosphere.
During the band's performance of "Hard to Say I'm Sorry," the band's lead guitarist Keith Howland called for audience members to flash their cellphone flashlights and wave them in the air.
The Paul Paul Theater lit up in a sea of flashing lights waving from side to side as the band played their famous ballad.
The band seemed just as engaged as the audience through the night, making it clear that Chicago is still touring because they enjoy putting on a show.
Founding member James Pankow thanked the Fresno crowd for being at the concert and said he hopes the band can tour for 50 more years.   
The band members all took a bow hand in hand to close off the concert after delivering a show that left band members smiling through perspiration and audience members standing and giving a round of applause.