From Silence, There's Laughter
Hearing people can be funny, especially if you are deaf. This is one of many things long-time deaf performer Peter Cook shared during his performance at the Fresno City College theater on March 30.
Sometimes it is actions that get the best laughs from an audience, rather than what one would say. Cook demonstrated this talent when he filled the theater with the sound of boisterous laughter from the audience.
Cook used American Sign Language to tell stories and had the audience participate in a variety of activities that both deaf and non-deaf people could enjoy. Cook has been putting on these comedic shows for over 30 years.
"I have always enjoyed the art of performance and theater," Cook signed through an interpreter. "I got my start in 1984 in Illinois at a storytelling festival, and I have loved the experience with my career since then."
Cook's unique ability to communicate comedy routines to not only the deaf audience, but the non-deaf audience who do not understand sign language, certainly paid off in this performance. Cook used a variety of hand gestures and noises as his only tools to communicate his comedic routines.
Cook put on a physically interactive show, which involved the audience walking on stage with him at certain points to act out different situations. Such situations included catching and throwing a ball, pitching a baseball bat and even blowing a bubble from a piece of gum.
Around halfway into the show, Cook started telling stories to the audience. Cook had an interpreter tell the non-deaf audience what he was saying, as well as acting his stories out with his movements and facial expressions. These stories were effectively humorous, as every moment was intriguing to experience.
"A big goal for my shows is to teach the literary world that there is a place for deaf people," Cook signed.  
This was the second time Cook visited FCC to perform. "Both times I have performed at Fresno City College, they have been a lively audience," signed Cook. "It is a beautiful campus, and I enjoy performing here,"
Cook looks forward to one day coming back to perform for FCC.
About the Contributors
Eric Jaramishian, Reporter
Eric Jaramishian is a 21 year old man. He was born and raised in Fresno, California, and he currently attends Fresno City College. Eric is currently in...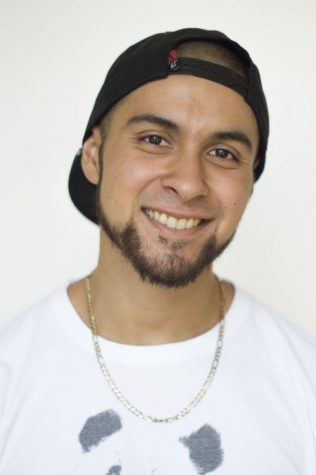 Marco Rosas, A&E Editor
Marco Rosas is a 21 year old Communications Major and third year student at Fresno City College. He is serving as the Fall 2017 Entertainment Editor for...