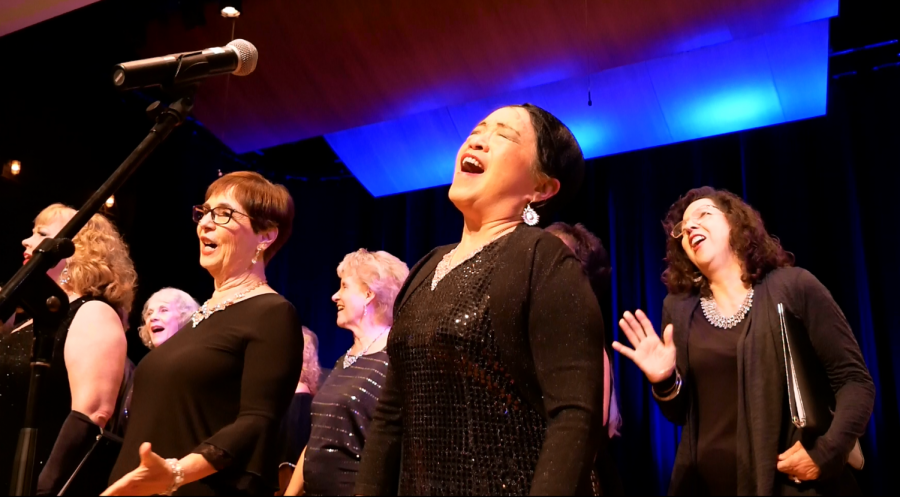 Moises Buitrago
Group still going strong after 32 years of playing music for the Central Valley
The OAB auditorium was filled with harmony and the warm music of the Senior Showcase group, New Wrinkles, on Friday, Oct. 26. New Wrinkles performed "A Little Night Music" featuring the greatest hits of the 20th century.
Seventeen senior citizen performers played 32 different each with their own unique take. Viewers were treated to an animated performance of "Baby, It's Cold Outside" and "A Whole New World." Songs varied from different decades, each performance varied from duets, solos, and choir.
New Wrinkles started 32 years ago, said director David Bonetto, who has been performing at Fresno City College since then. Starting at age 55, performers are allowed to audition for New Wrinkles.
A 1958 grant allowed the group to get started and they began performing at Fresno City College. Out of the clubs who received the grant New Wrinkles, is the last one remaining said creative writer Darrel Yates.
In between each choir performance, Yates read aloud a small writing to the crowd that provided small bits of wisdom and the eventual passing of time.
While performing, cast members put a twist on each performance. Some songs like "Baby It's Cold Outside" was halted during the performance to allow the performers to poke fun at the song. In recent years, the song has been a target of the MeToo movement and some believe it is now a socially unacceptable song.
Other performances throughout the night included a short, but heartwarming duet of "Unchained Melodies," originally performed by The Righteous Brothers. During the song, two performers stepped down from the stage and each approached their significant other.
Each performance was accompanied by bass guitar player Alexis Holladay and drummer Anthony Rodriguez. The night concluded with "Thank You for a Night of Music" performed by the whole cast.
The cast of New Wrinkles comes from different singing backgrounds like barbershop quartet and tap dancing. The group isn't just a hobby for some performers: it is a way of celebrating their past and reliving their memories.
"I love those songs because they don't make music like that anymore. Our audience can relate to the music. It brings back memories," said 22 year member Gabe Agao.
Others, like 15-year member Mac McIntosh, joined New Wrinkles after being recruited while he was doing barbershop quartet. According to Mcintosh, he has been singing since he was 8 years old and has become a passion of his.
The team prides itself on the family orientated nature of the staff, spending most of their time together. New Wrinkles includes members who have stayed with the crew for 10 plus years.
"As a yearlong program, everyone is constantly rehearsing and we gladly become a part of group and social life," said Yates.
The cast continues to rehearse for their next performance on May 29 through June 14 for their performance, "A 20/20 Vision Look Back"" at the Fresno City College Theatre.