Maná Brings Latino Love and Power to Fresno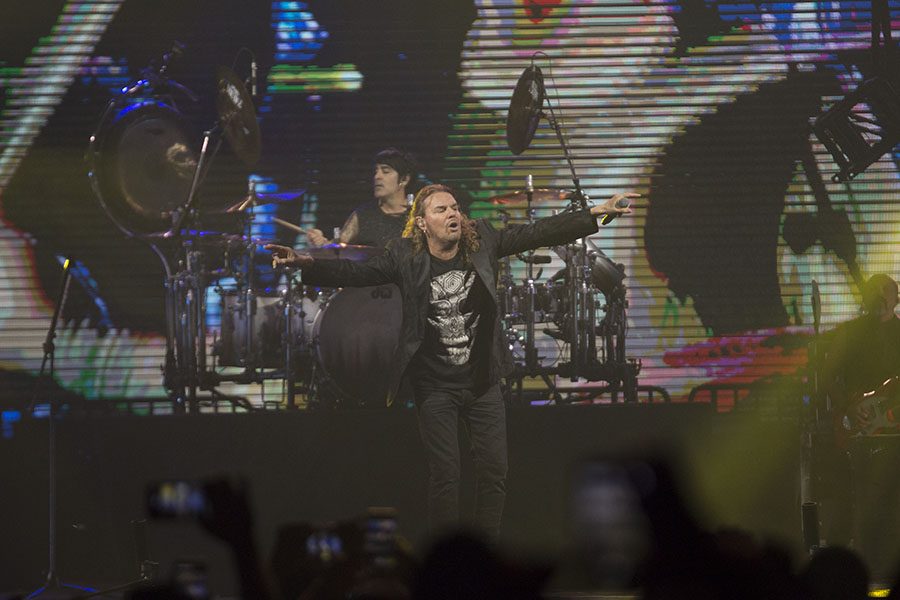 Story By: Jasmine Yoro, Arts & Entertainment Editor
September 27, 2016
Maná rocked the Save Mart Center with immense love and pride for Mexico and the Latino community.
Fresno was the tenth stop in the Latin rock band's Latino Power Tour, with several sold out shows. The band was greeted by a packed arena on Sept. 20, opening with "Manda una Señal," a #1 on the Billboard Hot Latin Tracks charts.
Maná has 11 studio albums and played many songs from the most recent, "Cama Incendiada". With nine #1 albums and 10 #1 singles, Maná currently consists of vocalist Fher Olvera, bassist Juan Calleros, drummer Alex González and guitarist Sergio Vallín.
The show's introductory video graphics portrayed a lot of recent events, especially political, within the Latino community. Visuals of brick walls with xenophobic phrases filled the screens.
Alex González stole the stage with a can-do rock 'n' roll attitude. González performed an incredible drum solo while his section on the stage lifted maybe 20 ft. up, took a Corona-chugging break, and resumed his solo while his stage came back down.
Maná also donned a powerful rendition of the Wailer's "Get Up, Stand Up". The cover was the only song in English that the band performed.
The Guadalajara natives were originally known by several variations of Sombrero Verde, but adopted the name "Maná," which translates to "positive energy" in Polynesian. After receiving a star on the Hollywood Walk of Fame, Maná announced their Latino Power Tour.
Maná's next California tour dates are at the Don Haskins Center, El Paso, Texas, on Sept. 28.