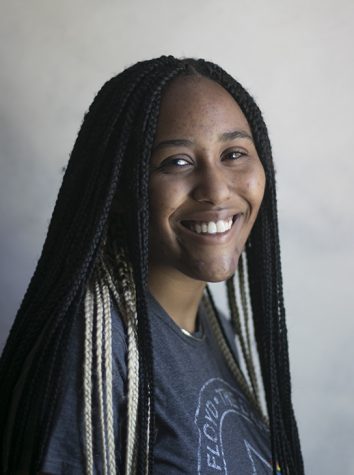 Toni Woodruff is a 19-year-old journalism and communications major at Fresno City College. She was born and raised in Fresno. She graduated from Edison High School in 2016 where she was involved in sports and leadership.
Amongst her many passions, Toni has found herself most at home when writing, especially poetry. She has competed in and won many local poetry slams and was given the opportunity to say an original piece at her graduation, baccalaureate and various Black Student Union events. Toni also spends a considerable amount of time writing short stories that often dismantle stereotypes and stigmas that she is faced with through playful and humorous but serious fiction.
Toni is in place to transfer from Fresno City College in the fall of 2020. She has hopes of going to either San Francisco State University or another university on the east coast. Toni will be going into the public relations field, she shows interest in crisis communications as well as social media management.
Over the years, Toni has had ideas and rudimentary plans on a television series she hopes to one day make come to life. She shows immense concern about the type of representation teens and young adults from all different identities are being exposed to and what stereotypes those media outlets might be pushing instead of challenging.
Toni Woodruff, Reporter
Nov 29, 2018

Three Rampage Reporters Share Their #MeToo Stories

(Story)

Oct 12, 2018

Big Times Are Back at The Fresno Fair

(Story/Media)

Oct 11, 2018

'Lies My Teacher Told Me' James Loewen Speaks at FCC

(Story)

Sep 26, 2018

Online Dating: Cons

(Story)

Sep 25, 2018

The Future is Lucha Fest

(Story/Media)

Sep 25, 2018

Fresno Reel Pride Film Festival Thrills

(Story/Media)

Sep 11, 2018

Art Hop Brings Fun, Family and Excitement to Downtown Fresno

(Story/Media)

Aug 30, 2018

FCC Students React to a Future Smoke-Free Campus

(Story)

Aug 23, 2018

Theater Auditions Kick Off Fall Semester at FCC

(Story)