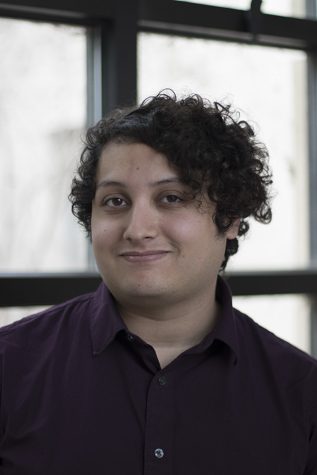 Tommy Tribble is a 24-year-old writer seeking an English degree at Fresno City College.
While he's lived in Fresno almost his entire life, he's also done a great deal of traveling all over the United States, mostly to Boca Raton, Florida to stay with his grandparents for really long, awesome summers. He desperately needs to renew his scuba diving license. During one of those summers, Tommy was in his grandfather's office writing terrible, garbage
Final Fantasy
fanfiction when he realized that he wanted to be a novelist. He was ten years old, and it's been his dream ever since. The English major is part of that ambition, and he hopes to have an MFA in Creative Writing one day. But sometimes he thinks he could be a journalist, particularly when he reads the New York Times or scrolls endlessly through the hot takes on Twitter.
Regardless, Tommy knows that wherever life takes him and whatever career he chooses: he'll crush it.
Tommy is always working to develop his craft as an essayist and a writer because there's nothing he loves more than that feeling when it all comes together on the page. Plus, he's pretty talented and almost no one can match him for turn of phrase or quality analysis.
He's very humble. Tommy spends his days working part-time at a movie theater, chasing that degree to transfer at FCC, and taking care of his cat: an orange kitty and very good boy named Sora.
Tommy can be reached at
[email protected]
or on Twitter @tomiiwrites.
Tommy Tribble, Editor-in-Chief
Aug 15, 2018

Construction Activity on McKinley Avenue to Impact Bike and Pedestrian Traffic

(Story)

Aug 06, 2018

Table Takes #10: Spilling the Tea on Alex Jones, Sis

(Story)

Jul 18, 2018

Table Takes #08: The Podcast That Amazon Built

(Story)

Jul 09, 2018

Table Takes #07: #PlaneBae and the Plane Crash of Social Media feat. Paulina

(Story)

Jul 06, 2018

Women's Basketball Has a New Coach

(Story)

Jul 03, 2018

The First Purge is Subtle Like a Flying Brick

(Story)

Jul 02, 2018

Table Takes #06: It's Too Late to Ron Paulogize

(Story)

Jun 25, 2018

Table Takes #05: The Last Evangelion

(Story)

Jun 18, 2018

Table Takes #04: The Thicc One

(Story)

Jun 18, 2018

Seven Honorees Announced for FCC Football Wall of Fame

(Story)

Jun 04, 2018

Table Takes #02: Miss Me With That Asexual Erasure

(Story)

May 28, 2018

Table Takes #01: @ElonMusk What the F#%@ is Pravda?!

(Story)

May 28, 2018

Fresno High's Block Party Was an Eclectic Good Time

(Story/Media)

May 15, 2018

Stuck in Summer School? Here's Where the Food Trucks Are!

(Story)

Apr 20, 2018

LitHop Finds New Headliner

(Story)

Apr 18, 2018

Third Annual LitHop to Light up Tower District and FCC

(Story)

Apr 06, 2018

'Blockers' Brings Sincerity to a Cringy, Tired Premise

(Story)

Mar 21, 2018

Esmeralda Soria is Determined to Inspire

(Story)

Mar 14, 2018

'Tomb Raider' Clears Low Bars, Impresses No One

(Story)

Mar 09, 2018

Goldsmith Talks Budget, Design Science, Counseling Reform

(Story)

Mar 09, 2018

Accreditation Day Arrives Mostly According to Plan

(Story)

Mar 06, 2018

Common-Sense Gun Laws Are Not Enough

(Story)

Feb 21, 2018

Wakanda Forever: Black Panther Serves Something New

(Story)

Feb 14, 2018

Trump Takes Credit for Obama's Economy, Even as it Crumbles

(Story)

Feb 08, 2018

Weed is Legal in California, But What About on Campus?

(Story)

Jan 24, 2018

Are You a College Student Without Health Insurance? This Free Service Could Help

(Story)

Jan 23, 2018

Despite the Internet, Students Still Line up for Books

(Story)