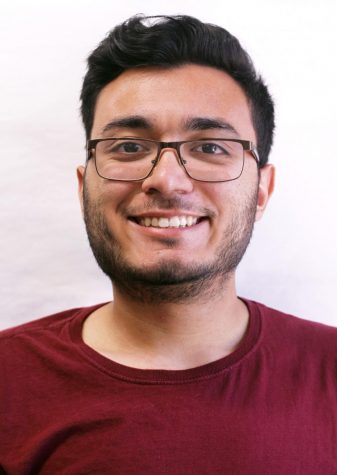 Moises Buitrago is a journalism major and a second-year student at Fresno City College. Buitrago picked up journalism in high school, becoming the sports editor and editor in chief for the
Sanger Hi-Lights. Some of the goals Buitrago hope to achieve this year include meeting different people at FCC, getting to know the city of Fresno better, and getting to know his fellow staff.
Thanks to the Hi-Lights Buitrago met numerous of kinds of people including the head of police, pilots, doctors, and pastors. Buitrago also became knowledgeable in Adobe InDesign and
certified in Photoshop, "If I had to pick my favorite experience from journalism it would have to be flying in a plane with a trained pilot. We flew all above Fresno; it is amazing how green it is from above."
Buitrago grew up in the San Francisco Bay Area. Buitrago moved to the Fresno area during his sophomore year of high school.
"Believe it or not I actually love the valley. Fresno has its own beauty and charm, there is definitely a lot of hidden potential in this city."
Despite being a journalism major Buitrago plans to be a pilot in the future. While in high school Buitrago picked up photography and is still one of his favorite hobbies. Some his favorite photographers include Noserain and Saul Leiter. Some of his favorite types of photography include macro and landscape photography.
When not in school Buitrago can be found reading a book in a local coffee shop or taking photos for fun.
Moises Buitrago, Reporter
Dec 02, 2019

Women's Soccer Wows in Playoff Start

(Story)

Dec 02, 2019

Rico Rosario: The Driving Force into the Playoffs

(Story)

Nov 13, 2019

New Wrinkles Bring Old Music to OAB

(Story/Media)

Sep 25, 2019

Vang Dominates Student Activities Ping Pong Tournament

(Media)

Sep 11, 2019

Rent is on the Rise

(Story)