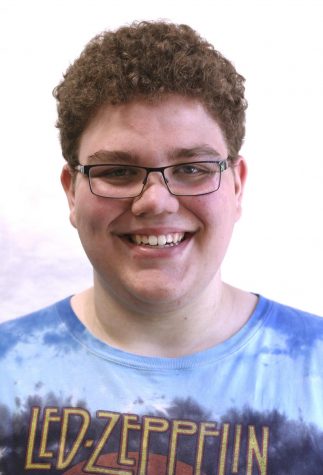 John Bruce is an 18-year-old communications major originally from Visalia, CA.
Since he moved to Fresno, he's been attending school, working and participating in his community. He has become an active member in Fresno County's California Young Democrats chapter and is forging political relationships with members of the community.
Through his previous experience working at newspapers, he was able to refine his skills at using the Microsoft Office suite, G Suite and Adobe Photoshop while picking up Adobe Illustrator and InDesign. He owns his own camera, but prefers to spend his time behind the keyboard instead of behind the lens.
Professionalism isn't everything to John, though. In his spare time, he enjoys playing Dungeons & Dragons with his friends who have participated in a two-and-a-half year long campaign. While he is a Dungeon Master for his friends, he also plays a shadar-kai warlock and a dragonborn fighter in two separate campaigns.
Adding another skill into his nerd wheelhouse, John can also solve a 3x3x3 cube in less than two minutes. After his friend had a phase where she cubed, he followed in her footsteps, but not nearly as intensely.
Writing creatively is a good way for John to decompress after particularly difficult or frustrating days. He is constantly writing and revising short stories and cultivating ideas for new stories.
Another thing usually attributed to John is his height, though he's pleasantly surprised people seem to care less in Fresno. To set the record straight, John is 6'8", or at least he rounds up to that from his real height.
John Bruce, Entertainment Editor
Dec 02, 2019

A Review: 'Knives Out' Modernizes Mystery

(Story)

Nov 24, 2019

'Knives Out' Modernizes Mystery

(Story)

Oct 24, 2019

The Wind Has Stopped Blowing for Chris Breezy: A Review

(Story)

Oct 11, 2019

Impeachment Just Another Circus

(Story)

Oct 01, 2019

Bernie Sanders Holds Campaign Stop at Fresno City College

(Story)

Sep 30, 2019

Big Times Are Back at the Big Fresno Fair

(Story)

Sep 30, 2019

'Fresno Cares' Works to Prevent Suicide

(Story)

Sep 17, 2019

'American Idiot' Turns 15, But Its Message Endures

(Story/Media)

Sep 11, 2019

The Decay of Time: Memories of 9/11 Are Rotting

(Story)

Aug 28, 2019

New Technology Support Services Director to Manage $1.2 Million in Technological Improvements

(Story)