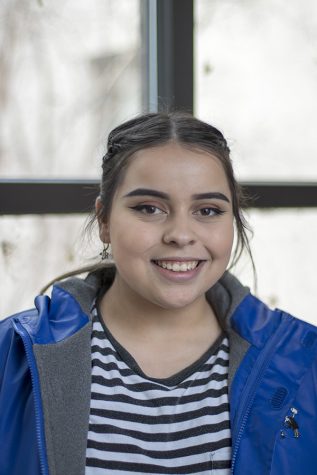 Gabbi Micheli is 18 years old and a journalism for transfer major at Fresno City College.
She was born and grew up in Bakersfield, a town in Southern California, until she moved to Fresno at the age of 4.
Gabbi is an active concert-goer and loves nature and space. Her hobbies include travelling, designing clothes, bringing her telescope wherever she goes and catching up on her favorite magazines and newspapers.
She has two dogs and loves the east coast. She also is interested in advertising and would love to pair the two together and be able to work as a creative director in the future.
Gabbi can be contacted at
[email protected]
or on Twitter @gebutts.
Gabbi Micheli, Reporter
May 01, 2018

Students For Sustainable Action Club Aims For A Zero-Waste Campus

(Story)

May 01, 2018

How To Travel on a Budget

(Story/Media)

May 01, 2018

U.S. Should Choose Peace Talks to Decrease Tension in Syria

(Story)

Apr 24, 2018

LitHop Celebrates Fresno Literature With Local Writers

(Story)

Apr 18, 2018

Gender Neutral Restrooms Coming to Fresno City College

(Story)

Apr 18, 2018

The Future of Film is in Good Hands

(Story)

Apr 17, 2018

Young Artists Redefining Fresno Culture

(Story/Media)

Mar 20, 2018

Syrians Deserve Our Attention

(Story)

Mar 07, 2018

Renowned Pianist Samuele Amidei Lights Up Fresno City College

(Story/Media)

Feb 23, 2018

District Gifted Land for West Fresno Campus

(Story)

Feb 21, 2018

Students Excited about Extension of Grizzly Fest

(Story)

Feb 20, 2018

Millennials Aren't Killing Businesses, They're Discovering the New America

(Story)

Feb 08, 2018

Dental Hygiene Clinic Provides Something to Smile About

(Story/Media)

Feb 08, 2018

Here's What You Need to Know About The Q, Fresno's New Bus System

(Story)