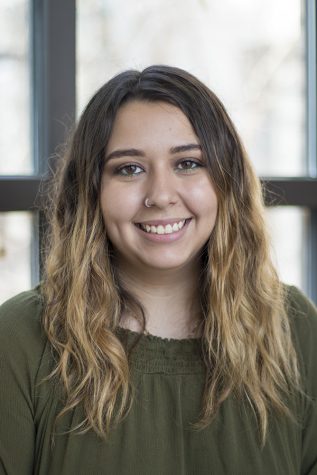 Anjanae Freitas is a 20-year-old Fresno City College student who was born and raised in Fresno, CA.
During her time at Fresno City College, she has found interest in the field of journalism, where she will receive her AA in journalism in the spring of 2018. She will continue on pursuing to receive her BA in Communications at an undecided CSU.
One of her passions is photography, which she developed through the many concerts and traveling she has done over the years. During a Katy Perry concert, Anjanae had the opportunity to be in the "Katy Perry 3D" movie.  Throughout all three of these hobbies and attending the film's premiere, she has made connections within the industry where she was given an opportunity to collaborate with Capitol Records Street Team for Katy Perry. Through this line of work, she has been given many invitations to attend different entertainment events in Los Angeles.
Anjanae is leading towards the career field of social media management for the television and film industry. Her biggest accomplishment was having the opportunity to spend a day at Warner Bros. studio for
Freeforms
hit show
The Fosters.
The event was significant in her career because it made Anjanae passionate and aware about the representation that the television and film industry puts out in our society.
Ultimately, her career goal would be to promote and come up with strategies for companies to have representation for women, minorities, and the LGBTQ community throughout many platforms of social media.
You can contact 
Anjanae Freitas at [email protected]
Anjanae Freitas, Reporter
May 01, 2018

Despite Incredible Odds — Robin White's Unlikely Journey to Graduation

(Story)

May 01, 2018

Why Eating Disorders Can Be More Psychological Than Physical

(Story)

Apr 18, 2018

Living in the Margins of Society

(Media)

Apr 18, 2018

Design Science Student Headed to MIT

(Story)

Apr 17, 2018

Celebration Night Show Kicks Off Asian American History Month

(Story)

Mar 21, 2018

Instructors Offer Self-Defense Techniques

(Story/Media)

Feb 21, 2018

New FCC Website Still Experiencing Growing Pains

(Story)

Feb 20, 2018

Why It's OK to Outgrow Your Friends

(Story)

Feb 02, 2018

Freeform Cancels 'The Fosters' to Create A Sequel and Fans Are Not Happy

(Story)

Jan 23, 2018

New Wrinkles Are 'On the Road to Broadway'

(Story)