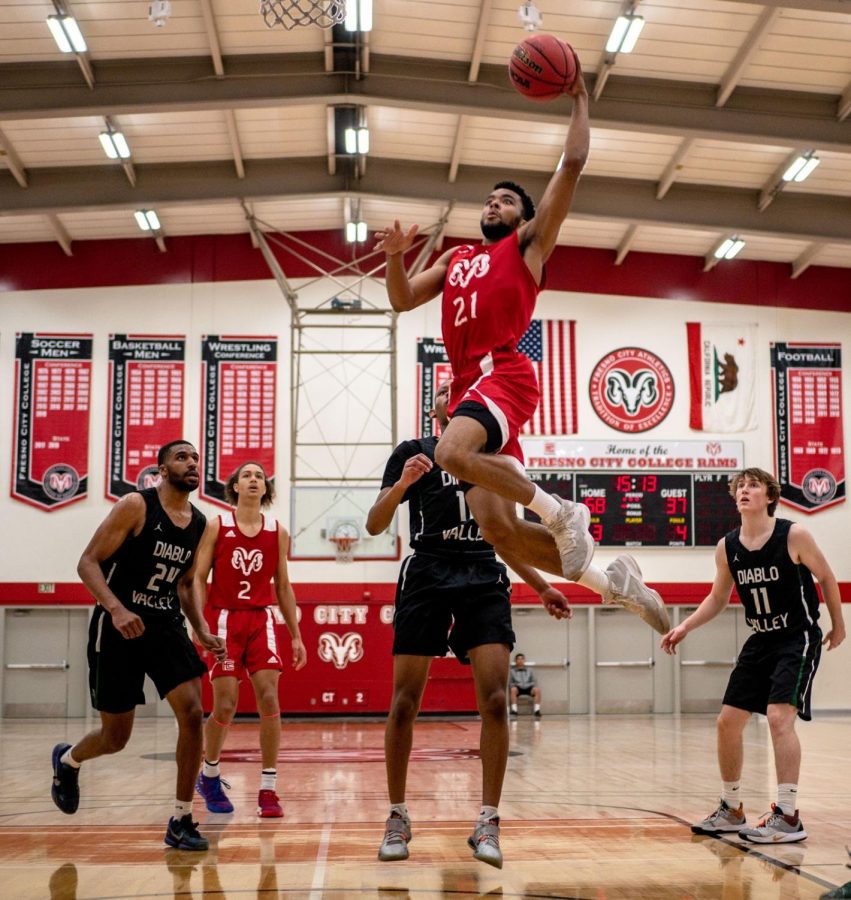 Moises Buitrago
The Diablo Valley Vikings rolled into Fresno City College following a nail-biting win over the Chabot Gladiators. On Saturday, Feb. 22 the Vikings looked to continue their Cinderella story, the Rams, however, took their glass slipper and smashed it into pieces defeating the Vikings by a score of 91-72.
After receiving a first-round bye, the Rams were ready to begin their playoff journey, clashing the #18 seed Vikings who went 19-10 overall.
The Vikings caused an early round upset over the #15 Chabot College Gladiators with 1.7 seconds left on the clock, advancing to the second round with a victory of 74-72.
After falling behind early in the game, the Rams struggled to stop Diablo Valley's three-point onslaught. Unfortunately for the Vikings, the Rams found the basket and FCC dug their way out the Vikings lead.
 "It took them [the team] the first five minutes or so to get their motor running, once they got up to speed, they played Ram basketball," said interim head coach Paul Keysaw.
Sophomore guard Eljay Gallegos received a foul that made Keysaw jump up and down in his seat.
Freshman guard Jordan Mijas would go to shoot both free throws, splitting the pair.
Following the free throws, the Vikings tried for one more run but were no match for the Rams.
"When a team starts making a run again and starts chipping away at the lead, we have to revert back to our training, the things that we work on and harp on and in breach every single day in practice with these guys," said assistant coach Nick Podesta.
At the eight-minute mark, FCC took a seven-point lead and never looked back, closing the half with a 50-31 score.
The second half opened up with a bang. A turnover forced by the Rams led to a Mckay Bundy dunk; Diablo Valley followed up with a timeout to recover.
Five minutes later, the Rams would show off their defensive capabilities with freshman guard Marcus McCutchen blocking a shot that led to fellow freshman Isaiah Jones taking some free throws.
McCutchen and sophomore guard Keshawn Bruner would go on to nail another block a few minutes later.
"We had a couple of guys that were able to make some plays down the stretch to make sure the game didn't get too interesting with respect to the other team," said Podesta. "At the end of the day, we have to be able to sustain some consistent effort over the course of 20 minutes in the second half."
On Saturday, March 7. The Rams will face Mendocino College for the second time this season. In the last matchup, the Rams escaped with a win in overtime, led by Bruner's 36-point performance.
"I think the big thing is just to make sure that we win our practices, take it one day at a time," said Podesta.