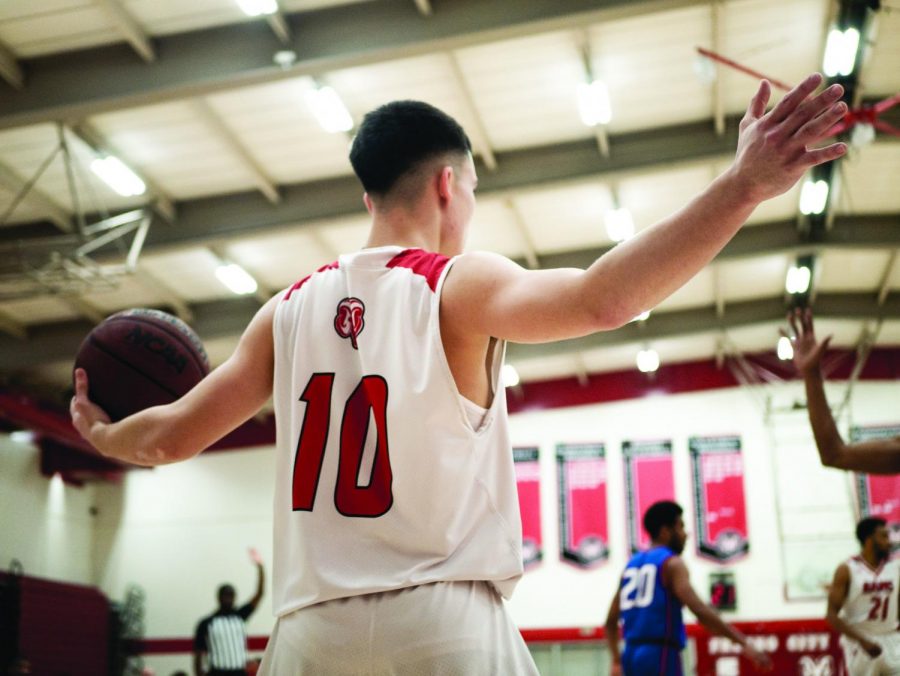 Moises Buitrago
Ronald Agebsar: six foot, five inches.
McKay Bundy: six foot, four inches.
Marcus McCutchen: six foot, six inches.
And then there's sophomore guard Eljay Gallegos, checking in at five foot nine inches.
Of the four players, you could guess who might be the odd man out, overlooked by the captains on the blacktop pick-up game.
But not Fresno City College men's basketball coach Ed Madec and his team. They know better.
Gallegos, a sophomore guard from Folsom High School, listed at 5 foot 9 inches, 165lbs is an integral part of the Rams' and Madec's offense. Having started in 15 games his freshman year, he has started in 15 games again this season with four games still remaining before playoffs and hopefully a record setting 19th consecutive conference championship.
Gallegos grew up in Sacramento, graduating from Folsom High in 2018. Named to the Sacramento Bee All-Metro third-team in his senior year, he freely admits that personal accomplishments mean less to him than team play and success.
"It was pretty cool to receive those accolades, but the high school season didn't end how we wanted it to in the state championships," Gallegos said, emphasizing his desire to compete and to win.
But as one of seven siblings, several of whom are athletes themselves, the drive to compete and love the game came from a familiar source – his dad.
"My love for basketball came when I was about six years old," Gallegos said. "My dad just showed me the game and then I just fell in love with it."
Gallegos, who helped lead his high school team to the CIF State Championship Quarterfinals, said he started to take the game seriously in middle school.
"I started working out every day and really dedicated myself to the game," Gallegos said. "I used to work out in the mornings before school. Just any time I could get in the gym," he continued, saying he would routinely arrive at the gym at 6 a.m. and work out until 7 a.m. daily before leaving for school.
Gallegos is not the only basketball talent in his family however. He has two brothers and one sister who also share the love of the game.
"My two older brothers play basketball. I think they influence me a lot," Gallegos said. "My little sister plays basketball; she's a junior right now."
Gallegos believes he influenced her to play. "She's really good now; she has D1 offers."
In his own college career however, Gallegos aspires to help the Rams not only reach the state championship, but win it, attributing his dedication and will to compete to his athletic idol: the late Kobe Bryant.
"He influenced me to play basketball too," Gallegos said. "My dad was a Lakers fan and we'd always watch Kobe, and even though I couldn't be like him, I could still take certain traits that he has like hard work, determination and that sort of thing."
Gallegos takes the hard work and determined attitude to the hardwood as a Ram.
"I decided this was the best program for me," he said about his decision to commit to FCC.
Gallegos attributes his knowledge of basketball to what attracted the Rams to recruit a player that many would consider to be undersized for the game.
"I never let height hinder me," he said about his skills and basketball IQ.
While many may doubt his size when they see him walk onto the hardwood, Gallegos believes the drive to win comes from somewhere deeper than just physical ability. He attributes his success to his hard work and dedication.
"I faced some adversity, but I always feel like if you have heart, you can make it on any court."
Gallegos and the rest of the Rams hope that they can find a way to not only win the conference again, but take home the state championship trophy this spring.