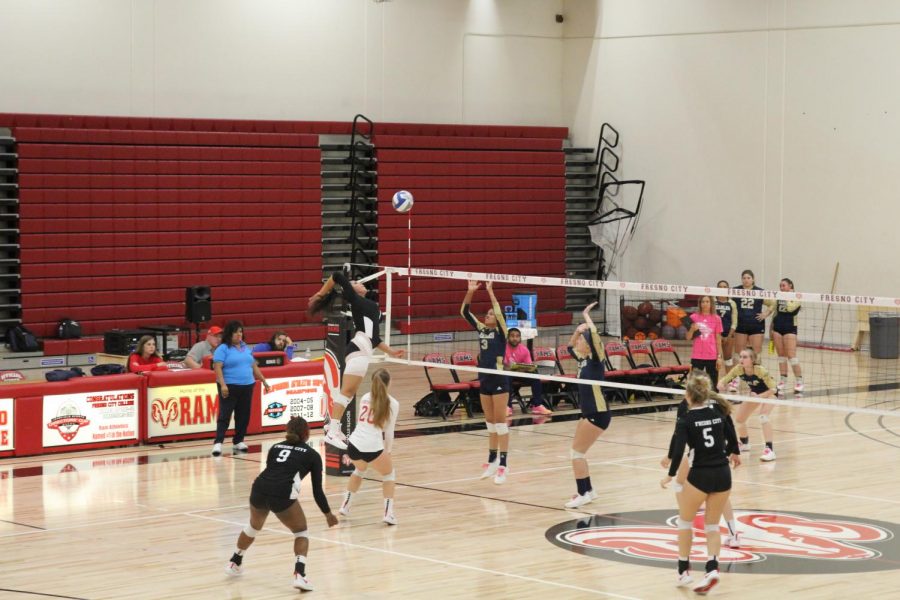 Ben Hensley
Saturday, Sept. 21.
That is the last day that the Rams' volleyball team gave up a set.
Not a match. A set.
The dominance of the Fresno City College volleyball program cannot be understated. With a record of 24-2, an undefeated 12-0 mark in conference, the Rams aspire to once again reach the state championship where they fell to the American River College Beavers in five sets to finish runners-up in the 2018 state finals.
"We continue to make gains each week," head coach Kieran Roblee said. "The kids are embracing the things that we're building layers on."
It's hard to argue that fact acknowledging the undefeated month of October that the Rams experienced, stretching their consecutive conference match win streak to a remarkable 124 straight victories.
A consecutive win streak such as the streak the program has put together can be viewed by some as seemingly expected, but Roblee made it clear that their consecutive conference win streak is not at the forefront of the teams' mind.
"That's really not our focus," Roblee said. "Our focus is on certain attainable objectives and goals that we might set for them, and I think that's key for us to stay focused."
As a team, the preparation that goes into matches reflects Roblee's outlook and objective based practice.
"If we're working on getting X number of kills per set, that's something that they [the players] can grab on to and focus on," Roblee said.
She also made it clear that the team focuses opponent to opponent in their preparation, not looking too far ahead, and taking their preparation one match at a time – a system that seems to have worked very well in the past seasons and into this season.
Another thing that has led to the consistency of the program is recruiting. With 21 players on the roster (including four redshirts – three freshmen and one sophomore), the Rams have dwarfed the opposing bench on numerous occasions, speaking greatly to the team's ability to recruit well and maintain prevalence in the valley as one of the top destinations for future collegiate volleyball players.
Roblee spoke very highly of the freshman class that the Rams possess.
"When we had the players that were coming in [high school and college coaches] said 'Wow Kieran. You've got some good ones,' and I said, 'Yeah, we got pretty fortunate to get them,'" Roblee said.
In particular, Roblee spotlighted the twin-duo of pin hitter Lexi Pagani and setter Julia Pagani from Buchanan, pin hitters Rylee Kenitzer and Keilli Voss and setter Jasmine Heu out of Clovis as well as freshman pin hitter Taylor Dilley who has become a staple in the teams rotation, as well as libero Ali Santoyo. The latter of the two have made an immediate impact on the team with Dilley leading the Rams with 231 kills on the season, and Santoyo leading the team with 427 digs defensively. Dilley also ranks second in digs with 222.
"It's hard for me to pinpoint any one freshman because they all contributed in doing a great job," Roblee said of her freshman recruiting class' performance on the season.
Returning this season, household names for the Rams of sophomore pin hitters Julie Castleman and Marina Gonzalez continue to perform at a high level, with the duo combining for 414 kills on the season.
Roblee says that the sophomore's history of making the state finals last season will help them this upcoming year in securing a hopeful championship.
"They were in that experience of falling one set short of accomplishing that state championship," Roblee said. "They've been there. They've experienced it. They're gonna be able to guide our team in what the expectation is and how they want to be back there."
The Rams come off yet another dominating 3-0 set win on the road in Reedley, going 25-15, 25-10, 25-13 en route to their 12th conference win and will go for their 125th consecutive match victory on at 6 p.m. on Wednesday, Nov. 6 when they take on West Hills Coalinga at home.