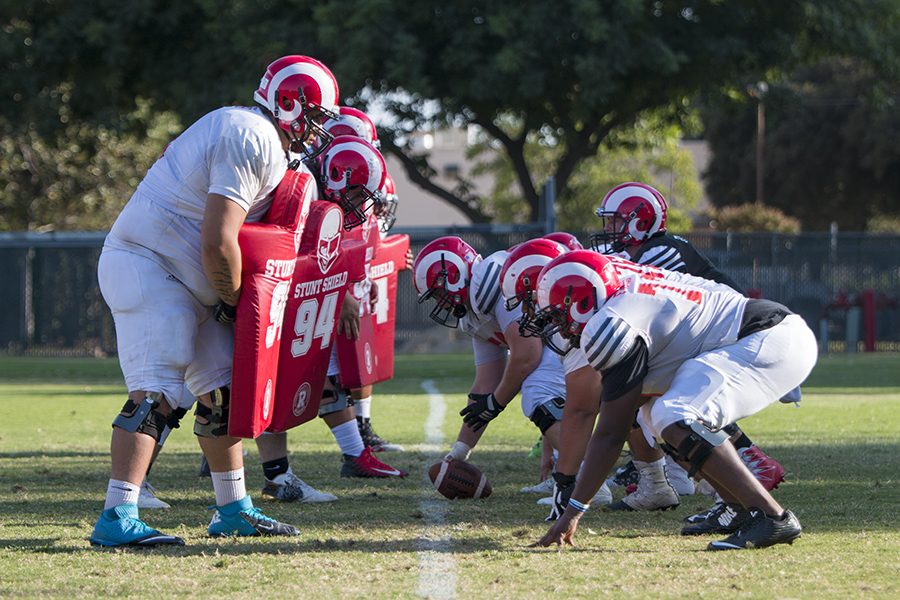 Courtesy of Rampage Archives
The Fresno City College Rams' are coming off a successful 9-3 season, having won the Valley Conference over Modesto and reaching the final four in the playoffs before losing to Butte College 24-7 in the Northern California Football Conference Championship.
Next year looks to build on that already impressive status.
Head coach Tony Caviglia gives some insight into the expectations of the team, leaders, schemes and discipline on the gridiron in the upcoming 2019 fall semester.
Leadership of the Signal Caller
Coming off a season which saw a changing of the guard at quarterback, Jonah Johnson returns at quarterback. Coming off a very successful season seeing him complete just over 61% of his throws, 18 touchdowns and 1635 yards, coach Caviglia has high praise for his sophomore quarterback.
Johnson, coming off a labrum surgery did not hit his stride until the midway point of the season. "I believe those labrum surgeries take almost two years to recover from, so he just wasn't able to let the ball go until he got almost to the midpoint of the season," coach Caviglia said of his playcaller.
Johnson looks to continue to build off the numbers from last year with a standout sophomore season.
"Finally, the lightbulb came on and he just took over our team," Caviglia continued. "We went on an eight game winning streak with him."
Further into the quarterback position, coach Caviglia goes on to explain the transformation Johnson went through since coming to FCC.
"He changed his body. He came in [at] about 250 pounds and now he's down to about 212," Caviglia went on. "He's trimmed up and he's highly motivated. He's a very good student. Well respected by players and instructors and coaches."
Coming off as successful a season as Johnson had in the fall of 2018, the sky looks to be the limit under center.
The Running Game Split
The Rams run their running game by committee. Coach Caviglia emphasizes the importance of having a running back by committee, putting emphasis on keeping players fresh and on the field come playoff time.
"Rico Rosario who was one of our key running backs last year, and Selby OBrien. Both have had tremendous offseasons. They got a taste of it last year and they're just gonna build and grow from last season," Caviglia said about his team's running game.
Rosario played in all 12 of the Rams' games last season, totalling 688 yards and collecting seven touchdowns on an average of 6.1 yards per carry.
OBrien, who looks to split the load with Rosario also performed well in his performances last season, playing in eight games and totalling 162 yards on only 29 attempts, for an average of 5.6 yards per carry.
Don't expect to only see Rosario and OBrien on the field come this September though.
"We're gonna play three or four running backs every game. We want our running backs to be fresh in the fourth quarter, and we want them to be fresh at the end of the year," Caviglia added, emphasizing the importance of keeping his players fresh not only for the end of games, but also at the end of the season.
With a backfield looking as promising as the Rams' backfield looks, expect to see the rushing yards pile up when the Rams hit the gridiron this fall.
A Defense That can Produce
Defensively, the Rams' as a unit picked off the opposition 15 times, forced three fumbles, 22 sacks and scored four touchdowns as unit. This year, they look to continue to force turnovers against the opposition.
"We want to get turnovers. If you play good defense, you're gonna get turnovers," Caviglia said of his expectations of the upcoming season.
Starting from the secondary, coach Caviglia gave a detailed look into what to expect defensively from the Rams this season.
"In the back side, we like Khalid Hylton who played solid last year," Caviglia said of his sophomore defensive back.
Coming off a season which saw Hilton pick off three passes, Caviglia praises his versatility. "He could play down at a nickel, he could play a deep safety. He can even play corner. He's very versatile."
Moving forward defensively, Caviglia outlined his key players at linebacker Cameron Lamanuzzi, Toamalama Scanlan, and Javion Macias.
Lamanuzzi "had a great freshman campaign and is just gonna build off that," Caviglia said. Coming off a season which saw him record 51 solo tackles, six tackles for a loss, and two sacks, Caviglia praises his off season commitment. "[He] had a great off season. Got bigger and stronger."
Scanlan played in three games last season and looks to have a productive 2019 season. "We moved from inside to outside linebacker," Caviglia said. "He's got a nice skill set to be a rush outside linebacker."
Macias recorded 26 tackles last season, 7.5 of which for a loss. "[He] took over in the Delta [College] game. Had a really strong offseason. He's just so smart, so intelligent. He's gonna play our field outside linebacker."
The Team Returns
The Rams look to build off a very successful 2018 season with an even more productive 2019 campaign in a hopeful return to the playoffs and a potential championship season.
Last year, San Mateo, Laney, FCC and Butte all met in the playoffs, with FCC losing to Laney, who eventually went on to win the state championship. This year, the Rams will look to flip the results of last year's playoffs, and take home their first state championship since 1973.
The Rams will open up competition on Thursday, Aug. 29 in a scrimmage against Chabot College. Game time will be updated at a future date.
The first official home game on the Rams' schedule next season is on Saturday, Sept. 14 against Siskiyous College at 5:00 p.m. at Ratcliffe Stadium.