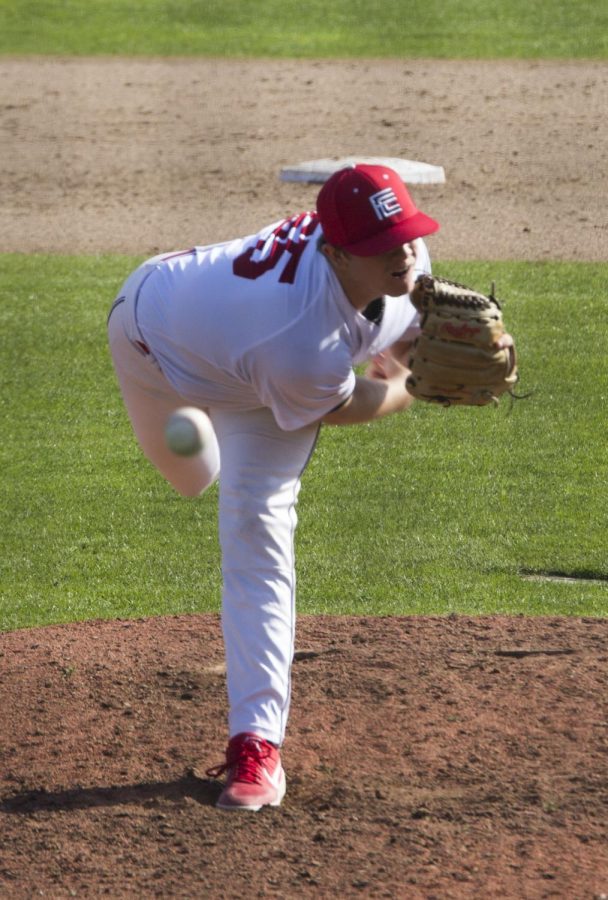 Ben Hensley
"The best experiences I've had in baseball is comradery."
Those are the words of 19 year old pitching prodigy Kohl Simas. Son of six year major league veteran Bill Simas, he graduated in 2018 from Clovis West High School and was recruited by Fresno City College Rams' baseball coach Ron Scott.
"I'm getting older; that's not the first time that's happened," Scott said referencing his tenure – 31 years, also coached Bill Simas during his tenure at FCC.
Growing up, Simas spent almost his entire childhood in Fresno with the exception of a year in Chicago while his dad spent time in the majors with the Chicago White Sox, but respects his hometown roots.
"This will always be home," Simas said of the Fresno area.
Simas started out like many other baseball players; playing catch in the front yard with dad. Starting competitive play at age four, Simas has been playing ever since. Both parents however had a history of athletics throughout their college days.
"My mom was actually a better athlete than my dad. She played volleyball, softball, soccer, she did every sport she could," Simas said about his family history in athletics.
"Because my dad, given his job he's always gone, she would be the one to take us to games, practice, everything," Simas elaborated on his family's relationship with his mom. "She'd drive four hours, get a hotel room and we'd bum it out for the weekend, and she'd drive back on Sunday and be back to work on Monday."
Simas, a freshman business major at FCC, played both corner infield positions, and of course his primary position: pitcher.
Having recently accepted an offer to play for UC San Diego next year, Simas hopes to one day figuratively follow in his fathers' footsteps and play in the majors. Simas hopes to create his own fame in the majors separate from his fathers.
"That's the big things that everybody brings up," Simas said about the comparisons to his dad. "In a sense I try and one up him. I tell him every day, 'Hey, I'm gonna get drafted higher than you! I'm gonna do better things than you!'" Simas said of his hopes of the future in the big leagues.
Like many other players however, Simas has had his fair share of difficulties with the game in the past.
Being able to accept defeat and using it as a learning experience is something that Simas referred to as an area he has grown in throughout his years on the diamond. Simas experienced that on one of the highest levels recently in the high school valley championship game.
"I gave up five runs and lost the valley championship," Simas recalled. Growing from that and accepting defeat with the ability to grow and learn from it is something that resonates with Simas. "I messed up; I didn't do this right, or this right, so next time, I'm gonna do it right."
"That was the big thing that opened my eyes to that problem in my game."
But like anyone who has made a name for themselves through the love of the game, Simas has countless personal victories as an athlete as well.
"I'd have to say the best experiences I've had in baseball would be teammates [experiencing] comradery. Being able to go to those guys and talk to them and hang out with them," Simas said. "If you're having a bad day at the plate, they're gonna come pick you up and be like, 'Go get the next one.' That's probably the best memories of baseball is the team aspect growing up."
This Season, Simas has spent part of the year on the injured list. However in his time with the Rams, Simas has a 2-1 record, after making nine appearances on the mound for 37⅓ innings, recording 41 strikeouts to 28 walks, and possesses a 2.41era.
He has also appeared in 24 games offensively, 23 as a starter, batting .316 with one home run and 19 RBIs.
Needless to say, the Simas name will be forever ingrained in Rams baseball history.
"There's another Simas coming next year too," coach Scott said of the Simas' legacy with the Rams.