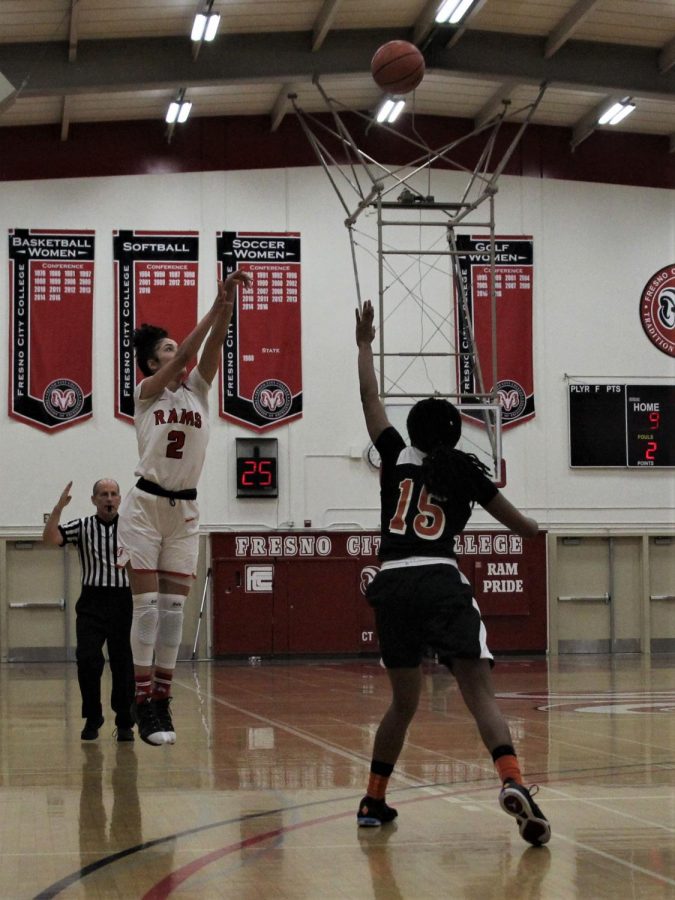 Ben Hensley
The Fresno City College Women's Basketball team wrapped up their season on Saturday, Feb. 23 in a disappointing fashion, dropping their final contest 90-55 against the Merced Blue Devils.
The Rams started the week with a record of 18-9, heading into their final home matchup against the Reedley Tigers.
The Rams were able to jump out to an early lead over the Tigers despite a very physical matchup that ended with numerous scuffles on the floor for the ball without whistles.
When the whistles did blow however, they came in bunches. Sophomore guard Jerrene Richardson accumulated four fouls before the second half began, handcuffing the Rams into playing with rotations that did not include Richardson on the floor.
"They played really hard," head coach Alex Fletcher said of the team following the disappointing loss, which saw the Rams lead 34-30 heading into halftime, before falling victim to a relentless second half comeback from Reedley.
A bright spot the Rams can definitely take moving forward was the performance of freshman guard Jordyn Brown. Brown posted 12 points in the contest, including going two of five from three-point range, and six of eight from the free throw line – all of which are vast improvements over her season averages.
"I thought Jordyn played great," Fletcher said of Brown's performance. "She really battled. When they're playing one-on-one like that you just gotta go in and draw contact."
Saturday, Feb. 23 the Rams played second ranked Merced College, losing by a score of 90-55.
After dropping their first meeting with Merced 81-65 on Jan. 30, 2019, the Rams hoped to bounce back and finish the season with an upset victory over their conference rival Blue Devils.
The Rams were only able to get one player to score in double figures, as freshman guard Penelope Kastsaridis put up 10, paired with six rebounds on the night.
The Rams trailed 27-44 at halftime on the way to a 90-55 loss.
The loss dropped the Rams back to fourth place in the Central Valley Conference following Reedley's 76-33 win on Saturday over Porterville College.
Heading into the playoffs, the 12 seeded Rams are 18-11, and will travel to face the five seeded 22-3 San Francisco City College Bulls on Friday, March 1 2019.