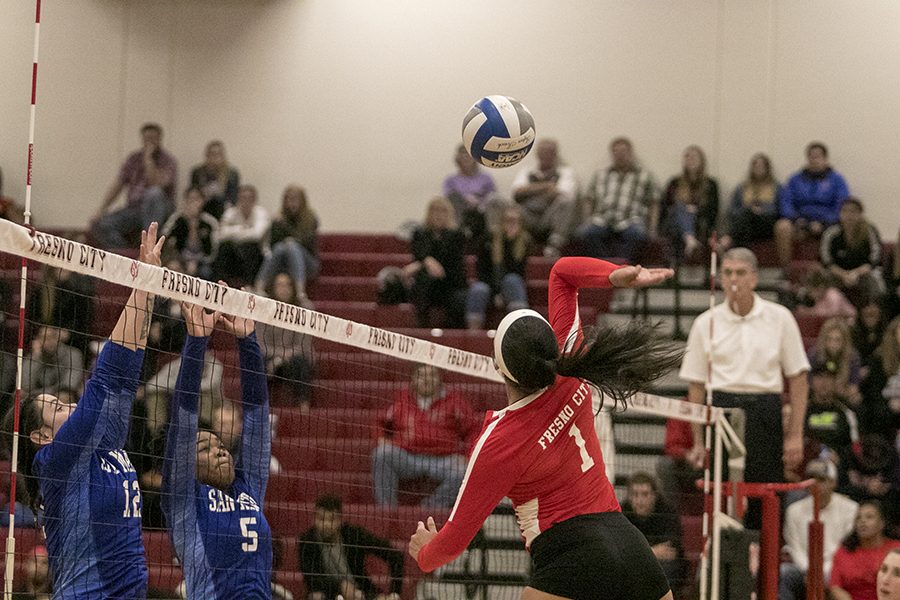 The path for two state titles in the past three years has the Fresno City College women's volleyball team continuing their dream season with a trip to Solano College as the CCCAA State Championship Tournament quickly approaches.
FCC made in to the next round as they defeated Hartnell in the second round of the North Regionals with 3-0 set victory of 25-16, 25-23 and 25-22 on the road.
The Rams were led by both sophomore Mia Corripo who finished as the day as the highest Ram scorer with 14 total points–all of them kills–and freshman Marina Gonzalez, who had 13 points of her own with 12 kills while adding 17 digs to her stat line.
Star middle blocker Keri Leake contributed as usual as she had 10 points with 9 coming by way of kills.
FCC has continued its impressive stretch of dominance, winning 42 out of their last 44 sets dating back to the beginning of October.
Although this past game the last two sets were closer than usual for the Rams, they were still able to move on to the next round of the CCCAA State Championship Tournament which begins later on this week.
The format for this year's tournament is single elimination taking place over a three day span, unlike the two day event from the past several years.
As the new seeds came out FCC is the No. 3 seed in the North region and has their opponent set as they will be facing the No. 2 seeded Bakersfield representing the South region who are boasting a 19-match winning streak coming into the Nov. 30 matchup.
The Rams have a formidable opponent in Bakersfield as the Renegades finished their season with a regular season record of 23-1 and 8-0 in conference winning the Western State Conference South Division.
Bakersfield's last two matchups saw a convincing sweep of No.15 Mt. San Jacito and much closer affair against No. 10 San Diego Mesa in a matchup that played out to the full 5 sets.
In other news award season rolled around this past week and to no surprise star middle blocker Leake garnered recognition from the American Valley Coaches Association being named second team All-American and first team All-State by the California Community College Women's Volleyball Association.
Earlier in the month Leake announced that she will be staying home as she signed a letter of intent to continue her playing career at Fresno State. The star Ram middle blocker will be moving from one successful program to another as Fresno State is having a standout season at 21-10 overall.