Head Coach Ron Scott Honored for 1,000 Wins
Thirty minutes before the game began on April 26 against No. 6 Cerro Coso Community College, Baseball Head Coach Ron Scott was honored by Fresno City College for accomplishing the milestone of winning 1,000 games. Two and a half hours, and 9 innings later, Scott added one more win as the Rams beat the Coyotes (9-2), making it 1,001.
The event honoring Scott in front of the entire FCC athletics community was an exciting affirmation of Scott's character and contributions to not only the baseball program, but to the college. FCC President Carole Goldsmith, commentator Woody Wilk, and assistant baseball coach Eric Solberg all spoke during the 30-minute event.
It started with Goldsmith heaping gratitude for having Scott as a part of the staff at Fresno City College.
"You all are witnessing more than Fresno City College history – this is Central Valley history and state history," Goldsmith said. "He has taken young men and turned them into great men, and I want that to be one of the key acknowledgements of his success as well."
Scott's accomplishment generated a particular buzz on campus and in the Valley throughout social media after the historic Rams win on April 24. They defeated the Coyotes (5-2).
"We're here to play a game tonight, but I just wanted to thank everybody," Scott said. "There is a saying that 'time flies when you're having fun' and I'm trying not to get emotional, but it's unbelievable how fast 30 years have gone."
Once the game began, very few seats were empty.
The Rams capped off the end of the regular season on April 30 as they defeated the Coyotes for the 3 game series sweep (9-3).
The Rams (28-12, 17-4 Central Valley) are currently on a nine game winning streak scoring a combined 73 runs in that span. FCC had very little trouble with the Coyotes in this series, with each game ending in convincing fashion.
The Rams were crowned the CVC Champions before their matchup on April 26 had even started as No. 3 College of the Sequoias lost to No. 5 Taft (13-3). Their first playoff game will held on May 4 against No. 5 Folsom Lake from the Big 8 conference.
"We got 1,002 and it feels good to be champs," freshman infielder Ian Ross said. "Being a CVC champ is a great feeling but we just gotta focus on the state championship now, and I'm confident that we will make a good run."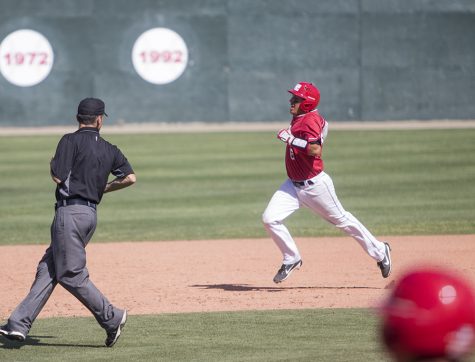 Photo by: Larry Valenzuela
Fresno City College Ram's Ian Ross takes third base against Cerro Coso at FCC Baseball Stadium on Friday, April 27, 2018.