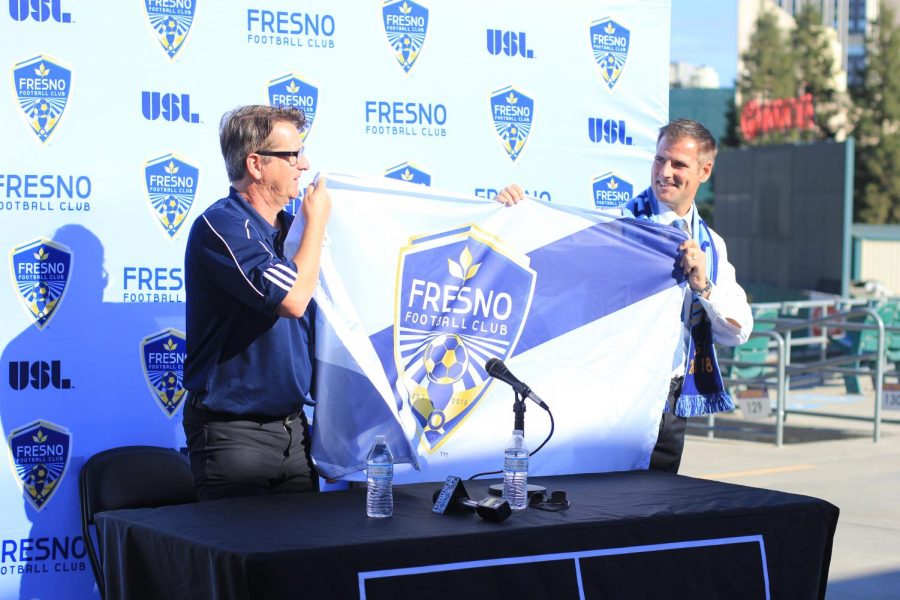 Jorge Rodriguez
Fresno's new professional soccer team the Fresno Football Club appointed its head coach during a press conference at Chukchansi Park on Nov. 9.
General manager Frank Yallop appointed Adam Smith, the former assistant coach at Sacramento Republic as the team's new head coach.
The Fresno FC, whose inaugural season won't start until next year, just two days ago announced their official mascot, The Foxes, or in Spanish, Los Zorros. They used #somoszorros as a social media slogan.
The club is getting all the pieces together to build a successful club and a big piece missing was the head coach.
Yallop said he was confident in Smith as his pick. "I felt that he's hungry and exciting and that's why I picked him," said Yallop.
Smith, who started his coaching career as a goalies coach with the Portland Timbers and more recently was the assistant head coach with the Sacramento Republic, will take his first opportunity as a head coach with Fresno FC.
Yallop said he has known Smith for about 10 years and he likes the style that Smith will bring to the Fresno FC.
Smith said he will commit to an attractive style of soccer and that he wants to take things slow. He said the team must walk before it can run. Smith believes that the Fresno FC has a great opportunity to build from the ground up.
Smith will be traveling to Mexico to look at some academies to see if he can bring some good talent to the team. Smith said that he'll work together with the front office to set realistic goals for the team.
Smith talked about his previous experience as a coach during the press conference. "I worked under some big names in the MLS and the USL," he said. "I'm hungry, I'm not just here to take another job. I'll have to live and die by what I'm doing."
There will be a Coach Smith meet and greet opportunity during a USL Cup watch party on Nov. 5 at Tioga Sequoia brewery.