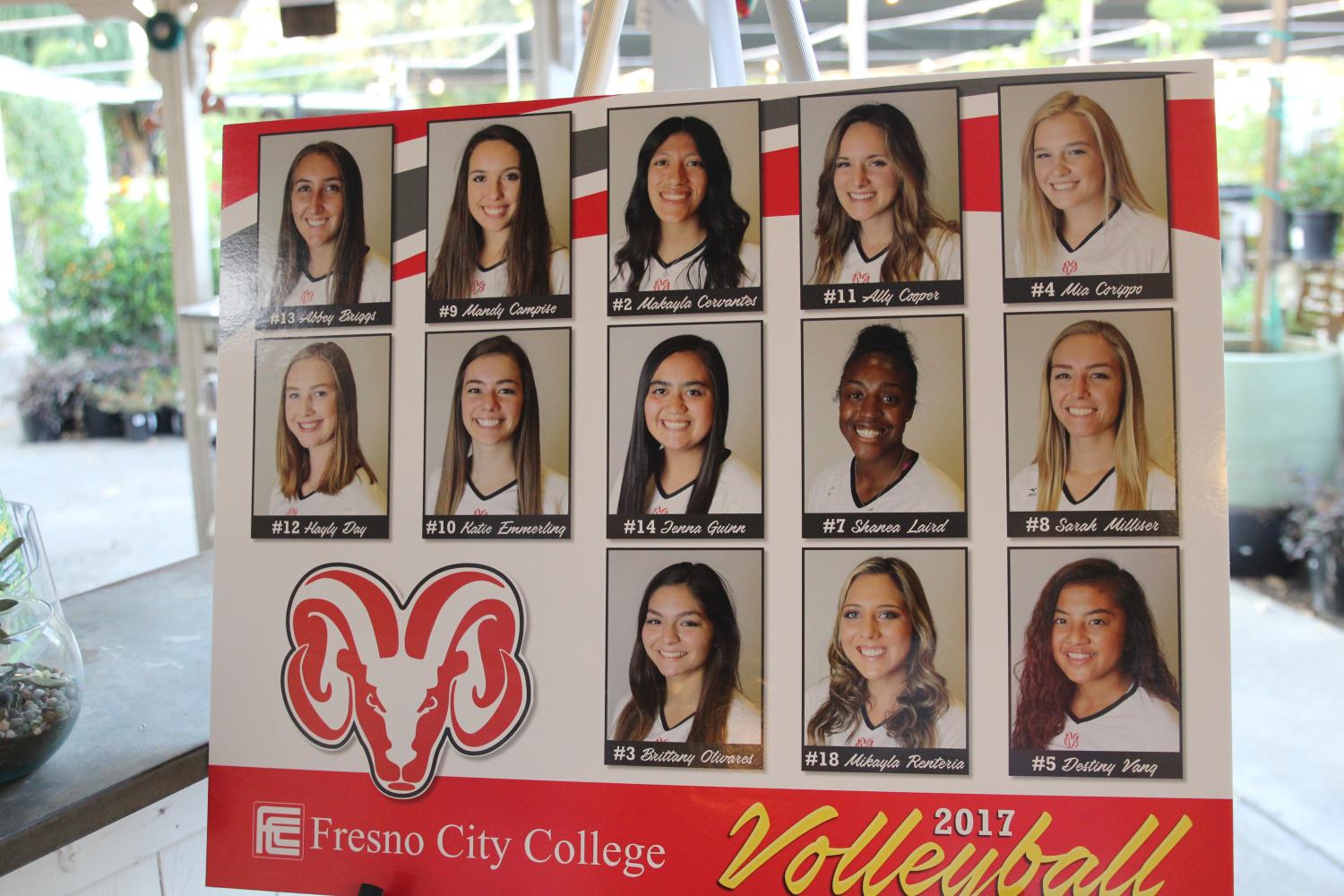 Photo by: Marco Rosas
Women's Volleyball Serves An 'Ace' Fundraiser At Gazebo Gardens
August 29, 2017
'The Fresno City College women's volleyball team raised funds and awareness about its upcoming season during a dinner at the Gazebo Gardens nursery on Aug. 23.
The event, "Serving Up Success," was coordinated by Kieran Roblee, the head coach of the team.  It featured two food trucks and an Ampersand Ice Cream cart.
"I just thought it would be a nice opportunity to connect with some of our local community," Roblee said.
Position coaches Hunter Knight and Nate Perez expressed their enthusiasm for the event, giving full credit to their head coach.
"It's her [Roblee] brainchild," Perez stated. "Being our first event, we're pretty happy."
Last season the team won the state championship and finished the year with a school record of 30 wins and only one loss. Now with the championship under their belt, the team is gearing up to defend its title.
This year's team will see the return of four players from last year's championship ensemble, who are assuming their roles as leaders for their teammates.
Ally Cooper, now a sophomore, is one of the team's veterans. "It's definitely a humbling position," said Cooper. "I'm excited to all fight together."
Learning their roles in the "fight" are the nine incoming freshmen, who say they are accepting their responsibilities on the team.
Freshman Mandy Campise, one of the team's new additions, noted the strength in the team's relationship.
"On this team, I feel like it takes everybody," Campise said. "Everyone needs to depend on each other."
With their first game just around the corner, the team is settling into their positions and building the framework necessary to endure the season together, while they try and duplicate last year's success.
"Our coach always says that we have a target on our back," Cooper said. "Every team is trying to beat us."
The team plays its first game on Sept. 1 in Sacramento, but their first home game against conference opponent West Hills College is on Sept. 20 on the FCC campus at 6 p.m.
"They work really hard," Roblee said. "We want to make sure they have a good experience."