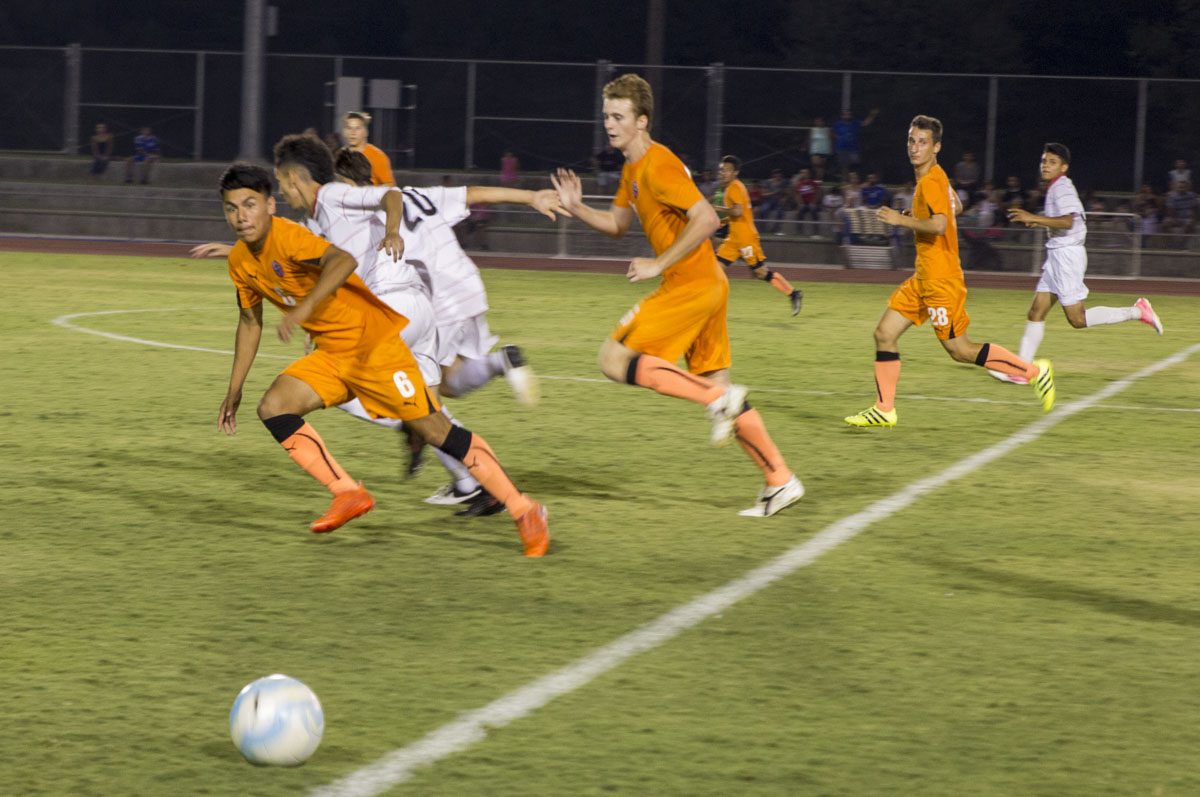 Photo by: Marco Rosas
Rams Defeat Sunbirds in Preseason Scrimmage
August 23, 2017
The Fresno City College men's soccer team defeated Fresno Pacific University 2-1 in a preseason scrimmage that had the Sunbirds hosting the Rams this past Saturday night.
The game was a special scrimmage that both teams wanted to win, with the scrimmage being three 30-minute periods agreed on by both teams to test out new and returning players.
Both teams have been at the top of their conference in recent years. This made for a very interesting game, even with it just being a friendly scrimmage.
The first period was intense with both teams having several scoring chances, but not being able to convert any goals thanks to both goalkeepers who seem to be mid-season form. Besides those chances on goal from both teams, the game was played on midfield and with no real tactical advantage going for any one team.
By the second period, the Sunbirds seemed to have full control of the game, with the Rams playing defense most of the period. With 10 minutes left on the period, Sunbirds' Gerardo Castillo hit a ball from inside the penalty box that got passed to the FCC keeper and put Fresno Pacific up by one goal.
In the third and final period, FCC finally got things going. Within two minutes, forward Johnny Rodriguez scored the equalizer, giving the Rams more confidence to take advantage of the situation. Three minutes later, FCC scored again thanks to Alex Martinez, who got a good shot past the Sunbirds' goalkeeper.
The game ended with FCC taking the victory, but both teams seem satisfied with having played a good game that will help both in their upcoming season.
"It was a great scrimmage for us, just to be able to see some guys play against a quality opponent was good for us," Rams coach Eric Solberg said after the game. "First and third period we played really well, but second period we got disconnected and looked slow on the ball. But for the most part, we got to see most of the players and this will help us make the final cuts."
He finished by saying, "I'm excited to see what this group can do, it will be an interesting season."
The Rams play their season opener against Santa Rosa at Lake Tahoe on Aug. 25 and will have their home opener on Sept. 8 against Los Angeles Mission College.