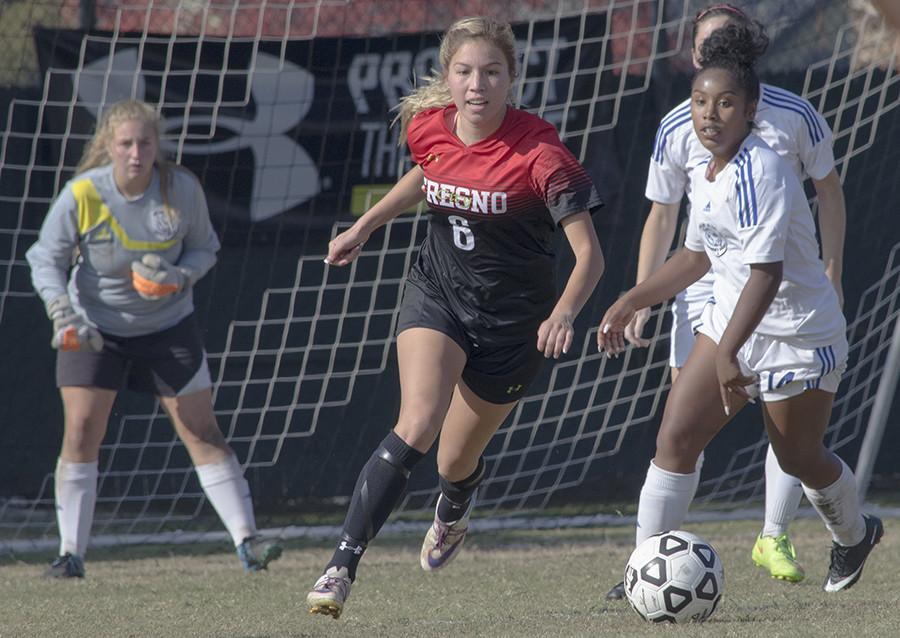 Daisy Rodriguez
Fresno City College women's soccer team lost to Cerritos College, the same fate they suffered last season. The team had one of the best seasons in school history, finishing with a record of 19-4-2 and advancing to the state final four for the second year in a row.
"Our girls worked so hard this year and fought until the final whistle today," said Head Coach Oliver Germond after a tough 3-1 loss.
This Rams team was impressive all year, going undefeated until an loss versus Taft. It's the Rams' first conference loss in 10 years.
Sophomores Yesseniah Delgadillo and Mel Harris were the only Rams to score in double digits this season. Delgadillo led the Rams with 11 goals and 31 points overall. Harris had 10 goal with 23 points overall.
"We worked hard all year, practiced hard and connected well on the field," said Delgadillo.
They were one of the better teams in the state in a few categories throughout this season —the ninth most goals scored in state (68), second fewest goals allowed (9), and the most shutouts (15).
"All season we executed," Germond said. "I'm very excited for our girls to experience the final four."
It's the fifth time FCC has made it to the final four with Germond as coach.
Germond said that reaching the final four will create opportunities for the players. "It's a very special event and will help them get seen by many four-year schools," he said.
"Our sophomores had an amazing two years. It's impressive to think they only lost one regular season and made two final four," Germond sad. "They really bought into what our program is about and committed themselves."
Over the past two seasons, the Rams have won 41 games with only two losses in total.This has been one of the best runs in school history.
"Go hard or go home," Harris said. "Has been our motto."