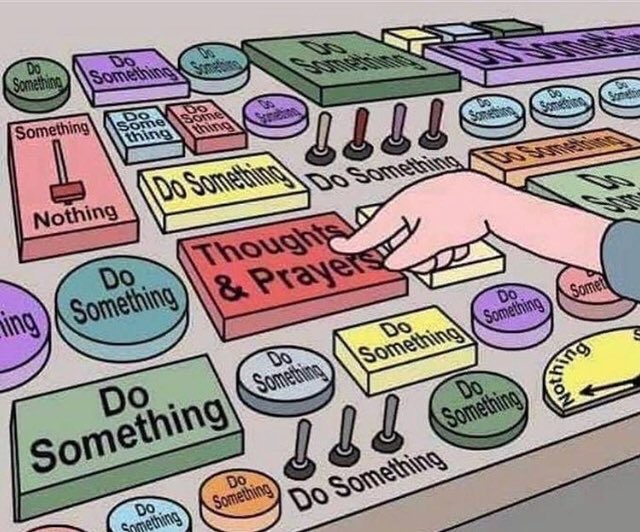 Courtesy of Twitter
Yet again, another tragedy has plagued a certain corner of the world—and our eyes are focused on it.
Whether the tragedy results from a natural disaster — an earthquake or hurricane or is man-made — some guy, armed to the teeth, killing 58 and wounding hundreds more — people on Facebook, Twitter and other social media can be counted on to send "thoughts and prayers."
"– in our thoughts and prayers" — simple words tweeted by millions of people, including the president of the United States.
Though seemingly a harmless act by people who feel touched by tragic loss of lives, these simple words have garnered some backlash and, almost comically, some controversy.
The idea of sending thoughts and prayers might have been lightly scoffed off by some a few years ago, but the conversation has been opened up to asking if it is an appropriate response to human tragedies at all.
It is too easy to call out the hypocrisy of GOP congressmen who tweet their "thoughts and prayers" to the victims of the recent Las Vegas massacre and their families, while taking money from the NRA and effectively blocking any legislative action for more strict gun control.
A politician can save face with the American people by publicly expressing his grief after a tragedy, but then does nothing to prevent another such tragedy.  That is the rub — the cause of the disdain that many feel towards social media users who use these words innocently.
What good does "thoughts and prayers" do for families of victims?   
Holding politicians more accountable for their loyalty to gun manufacturers and the senseless slogans they spew to manipulate voters into a frenzy of false patriotism might be more comforting.
Working together, donating time and money  to organizations working for stricter gun control might be more helpful than merely typing in "sending thoughts and prayers."
If one truly believes in the power of prayers, then pray for natural disasters and mass killings to stop before they happen.
Of course that is too harsh.
This is not to deny any religious views or ideals, and there is nothing wrong with believing in the power of prayer, or trying to send out positive ideas in such dark times.
Sometimes, hope is the only thing that can keep the light alive in the darkness.
However, thoughts and prayers are not enough.
There needs to be more direct action from all of us.
Go ahead and send your thoughts and prayers, but do so much more.