FCC club fights to end deportations
Hang on for a minute...we're trying to find some more stories you might like.
The number of undocumented immigrants deported under President Obama is expected to reach 2 million this year, according to a study done by the University of California, Merced. Students Without Borders, a Fresno City College club, has joined the fight to end all deportations in the United States and send a message to the Obama administration that enough is enough.
Students Without Borders has partnered with local organizations to bring information about new laws and current programs that benefit the immigrant community.
In cooperation with Fresno Immigrant Youth in Action and the California Immigrant Youth Justice Alliance, a demonstration took place outside the Fresno County Jail on Dec. 23, 2013 and led jail officials to momentarily shut down the county jail.
Addressing the high number of deportations has been a top priority for many of the immigrant rights groups in the United States in the recent months.
While demonstrations similar to this one have taken place elsewhere in the country, this remains the first of its kind in Fresno.
Two ladders were placed on M Street in Downtown Fresno which blocked the exit from the county jail. Between both ladders, a banner hanged that read, "Sheriff Mims, Fresno's Deporter in chief."
Luis Ojeda, a central California organizer for California Immigrant Youth Justice Alliance and member of Fresno Immigrant Youth in Action, was among the individuals who locked themselves to ladders in front of the county jail.
"We were trying to send a strong message to president Obama and Fresno County Sheriff Mims that it's time to stop deportations," said Ojeda.
A removal or deportation process begins when undocumented individuals are arrested for a crime by local law enforcement and are placed on an immigration hold. Immigration officials then transfer them to detention facilities where the deportation takes place.
Since Fresno county does not have a detention facility, Ojeda's strategy was to go where the removal process begins, which is at the county jail, and make sure that Sheriff Mims understands that the community isn't going to stand for one more deportation.
"Not One More," a chant all too familiar among the anti-deportation campaign, was one of many that were yelled outside the jail.
"Not One More is a phrase that basically says that we are about to approach 2 million deportations under president Obama" said Ojeda. "For the immigrant community it's really about making sure we do what we can to stop all deportations from happening and say that enough is enough."
Gov. Jerry Brown signed into law the TRUST Act on Oct. 5, 2013, which went into effect on Jan. 1, 2014. The TRUST Act, or Assembly Bill 4, limits cooperation between local law enforcement and Immigration and Customs Enforcement.
"I would like to see the sheriffs department to comply with the TRUST Act" said Angel Sanchez, former president of Students Without Borders.
In a press release, Sheriff Mims made public that the Fresno County Sheriff's department would comply with the TRUST Act, but will continue to communicate with ICE.
"I believe everyone is entitled to equal human rights" said Yesenia Valdez, an FCC student who also took part in the demonstration.
Despite not being undocumented, Valdez argues that people should not be labeled and says that she feels the need to help in any way possible.
"I would like the president to expand deferred action to all immigrants," she said.
Ojeda argues that it is important to maintain a relationship with Students Without Borders so that FCC students become aware of issues and are encouraged to become more active in their community.
"I think it is absolutely critical that we raise awareness around Fresno City College" said Ojeda, "so that folks who are coming here as students understand that being undocumented and being a student is not something that they're experiencing alone."
About the Writer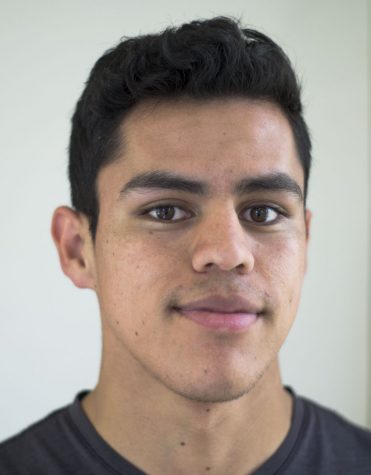 Cresencio Rodriguez, Editor-in-Chief
Cresencio Rodriguez-Delgado has led the Rampage for four semesters as the Editor in Chief. Cresencio joined the Rampage on January 12, 2014 and has reported...