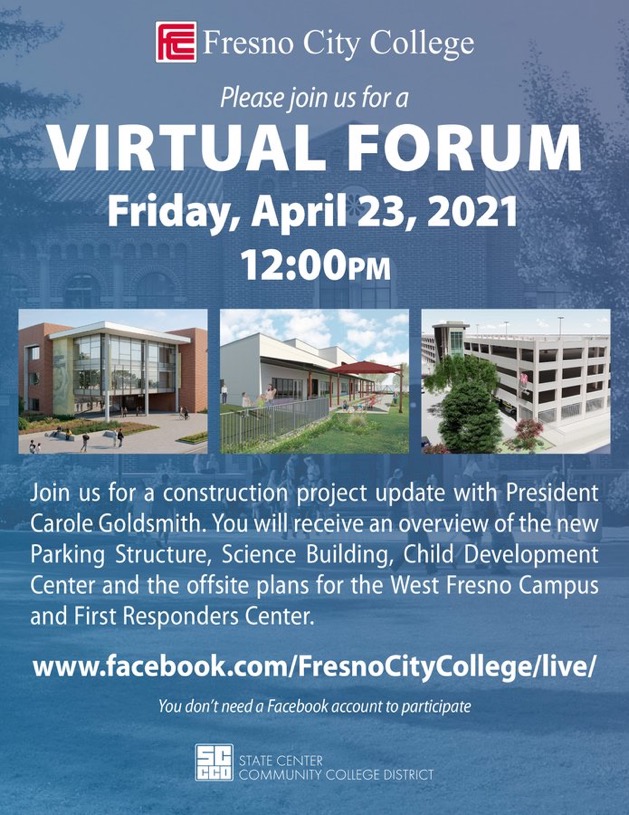 Fresno City College President Carole Goldsmith and other faculty members gave construction updates of various projects at FCC, including the new parking structure, science building, child development center and more, during a virtual forum via Zoom on April 23, 2021. 
Welcome Center to Replace old State Center Community College District office 
FCC will have a new welcome center, which will be located at the old SCCCD office building at 1525 E Weldon Ave. 
The new center will help students with admission, application, counseling, financial aid assistance and provide campus tours and more, according to Monica Cuevas, Dean of Guidance and Counseling. 
New Science Building, Plans for Existing Math and Science Building 
FCC will also receive a new science building that has a budget of $87 million. 
To make room for this new structure, FCC's existing maintenance room will be relocated. 
The SCCCD also has plans to relocate FCC's Police Department in the future. 
As for the existing math and science building, FCC officials have remodeling plans and have submitted it to the state chancellor's office for state funding, according to Shirley McManus, Dean of Instruction in the Math, Science and Engineering Division. 
Courses that will continue being taught in the existing building are astronomy, computer science, math, natural science, physical science, geology and geography.
There will also be enough room in the building for tutorial space that can be utilized by students. 
The old science building has 54,174 square feet of space for all math, science and engineering programs. 
The new building will provide 53,934 square feet for only four programs which means it will have more lab spaces strictly dedicated to biology, chemistry, physics, engineering and include a computer lab.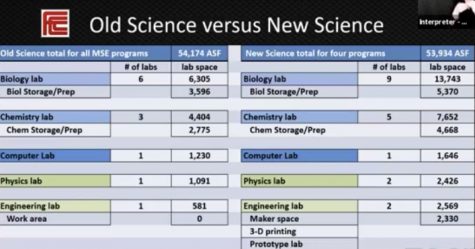 "We really needed this because STEM is a huge field that is up and coming in the Valley," McManus said. 
McManus explained that the design of the new science building will pay homage to the history of FCC with the usage of red brick and mosaic patterns which can be found near the entrance of FCC's library. 
According to Goldsmith, community members were the ones who suggested using red brick and mosaic patterns on the new building. 
The new science building will also have a courtyard featuring a Fibonacci spiral fountain and seating area that can be used for outdoor teaching.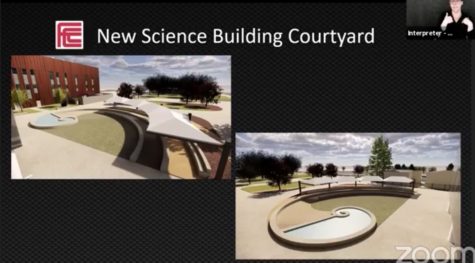 The first floor of the building will house the dean's office, conference room, computer lab, a large lecture hall, study spaces and classrooms for engineering and physics. 
There will also be a wing dedicated to FCC's Design Science Middle College High School, which provides a higher education experience to high school students. 
The second floor will house all of the biology courses, faculty offices, a large lecture hall and tutorial study spaces. 
The third floor will house chemistry courses, more faculty offices and more study spaces. 
Construction on the new science building will begin in fall 2020 and is expected to be finished in fall 2023, according to Christine Miktarian, SCCCD Vice Chancellor of Operations.
Update on FCC's new Parking Structure 
Construction on FCC's new parking structure, located on E. Cambridge Avenue, is anticipated to start mid-2021 with completion in 2022, according to Miktarian. 
The new structure will have a total of five parking levels with approximately 862 total parking stalls, 40 electric vehicle charging stations and 126 additional parking stalls adjacent to the structure itself.
The project has a budget of $22 million. 
FCC's new Child Development Center
The center is being designed with the intention of incorporating inside and outside learning opportunities for students and the families who receive child care there, according to Cherylyn Crill-Hornsby, Dean of Social Sciences. 
The new child development center will be approximately 24,580 square feet.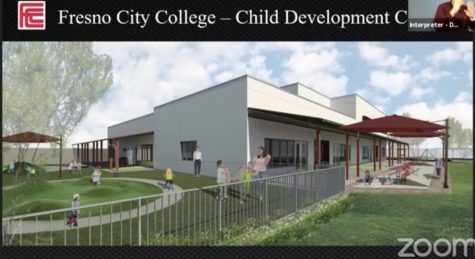 The first floor will have a welcome desk, offices and six classrooms to serve children from ages 2-5. 
The second floor will have lecture spaces for child development courses.
Department Chair of Child Development and Education, Raquel Ochs, hopes existing partnerships with local agencies and other higher education institutions will grow after the expansion of the center. 
Budget for this project is $16.5 million. 
Construction is expected to begin in October 2021 with hopes it will be completed in spring 2023, according to Miktarian. 
FCC's new First Responders Campus Coming to Southeast Fresno 
A new first responders campus will be located at Willow and North Avenues in Southeast Fresno.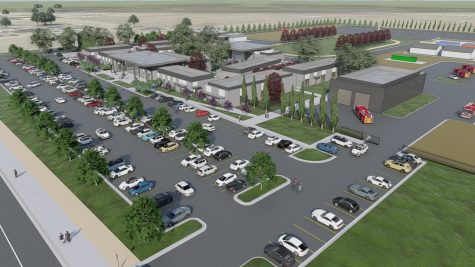 The campus will be dedicated to first responders which includes fire, emergency medical technician, police and other law enforcement. 
On site, there will be training facilities, weight rooms, simulation rooms, multipurpose rooms and scenario training outdoors. 
The campus will have approximately 42 acres of land with a budget of $46.1 million. 
Construction will begin in 2022 and will be completed in 2023, according to Miktarian. 
Remodeling FCC's Existing Softball Field 
SCCCD Director of Construction Services, Shannon Robertson, said FCC's existing softball field is lacking restroom facilities and lightning on the field.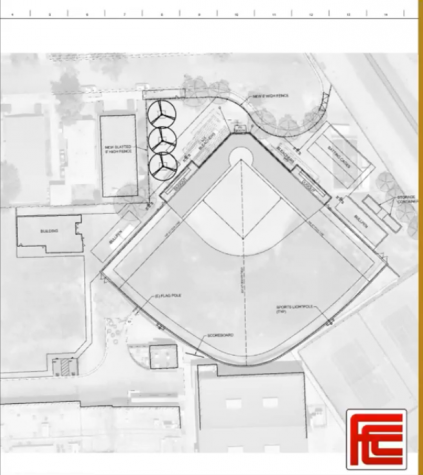 The remodeling will address both of those issues.
The total budget for this project is $4 million.
Construction will begin in 2022 and is expected to be completed in spring 2023.