ASG President Facebook Post Indicates History of Public Sex on a Campus
A previous version of this article stated that this incident took place in a Brooklyn high school, when it actually took place in a high school in Virginia. The article has been updated to reflect this information. 
Associated Student Government President Christopher Washington, who is facing a felony charge for performing sexual acts with a minor in a public bathroom on campus, confessed on social media to a similar incident on a high school campus.
In a Facebook post from Dec. 31, 2017, Washington describes an incident that took place in his high school in Virginia. He says he was kicked out of school after having sex in the women's restroom.
"Ok so I was like 17 years old and I was a virgin and I was tired of being that," he said in the post. "The life of being a man was upon me." Washington approached an unidentified woman his friends set him up with.
"She was like skip 4th block and when we do meet me at the spot." The spot was the women's restroom, which Washington entered.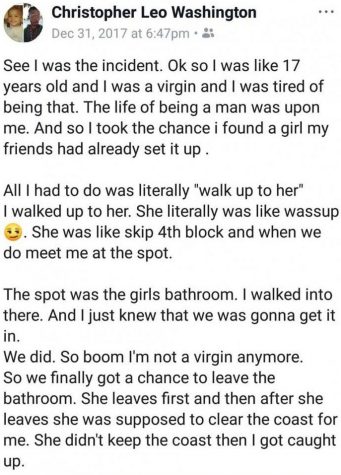 "And I just knew that we was gonna get it in. We did. So boom I'm not a virgin anymore," the post reads. The plan was for the woman to leave first and "clear the coast" for Washington. He said she did not, and when he left the restroom he was caught.

"Me getting kicked out rocked the school," Washington said in a comment in the same Facebook thread.
Washington pleaded not guilty Friday, Oct. 19 to a felony charge of oral copulation with a minor under the influence of an anesthesia or controlled substance after he and three students, one of them underage, were allegedly caught having sex on the Fresno City College campus.
He is currently in jail awaiting trial. His bail is set at $42,000.