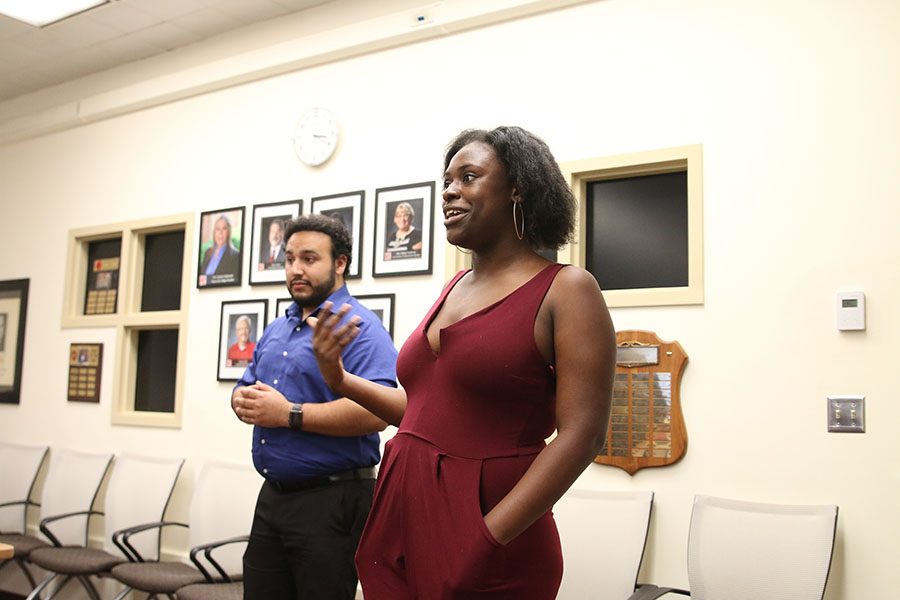 Photo by: Paulina Rodriguez
Alexandria Benn is Ready to Change the World
March 21, 2018
Fresno City College student Alexandria Benn, 22, waits outside the Senate Chambers in the Student Activities Center on March, 13, nervous, her fate hanging in the balance.
ASG members deliberate her petition to become a student senator, and after a majority approves her request, Benn is invited into the room to be sworn in.
She gathers her belongings and makes her way to the boardroom table; she finally has a seat.
"I felt it was a necessity that I join ASG because I saw that I was being underrepresented," Benn said.
Being a senator is just one of three leadership positions Benn holds at FCC.
This is her second year serving as president for the Pan Afrikan Student Union, and her first year working for MPWR Fresno (Mas People Working Relentlessly), a student-run organization with an emphasis on voter registration.
Benn says, however, that being in a leadership position hasn't always come easy for her.
She said she had gotten emotional when she accepted the role of president for the Pan AfriKan Student Union in 2016 the spring semester.
"I cried because I didn't know if I was ready. It was my first time ever even doing anything like this," Benn said. "I didn't think I was worthy; I didn't know I had the ability to do it."
Rebuilding PASU has been an uphill battle: the student union experienced a hiatus in 2016 because it didn't have the sufficient board members to be recognized as a club.
"It took me all summer to really just think about what I wanted to do and how to bring it back," Benn said.
Benn said her proudest moment as president was organizing "Bringin' Black Back," an event held by the free speech area on Nov. 8, 2017 and meant to signify PASU's resurgence as an active club.
"There were so many people in the free speech area, to the point that it was full," Benn said.  "When I looked out, I saw plenty of people, people that didn't even look like me."
She attributes her passion for politics and community organizing to the tragic death of 17-year-old Trayvon Martin on Feb. 26, 2012 in Sanford, Florida.
"As a black woman, I am constantly at threat of being killed in the street, or even having my nieces or nephews killed," Benn said. "Just to have that fact that we can't live day to day without the threat of death, it empowered me to want to change my environment."
In her work with MPWR, a student-run organization which aims to create civic leaders in schools and neighborhoods, the group organized a community cleanup in October 2017 in Kerman, and hosted a workshop focusing on the signs of an abusive relationship on Feb. 13 at FCC.
One of Benn's colleagues at MPWR got tired of the effects of the drug epidemic on his community and decided to transform one of his properties into a community center.
"That day was so empowering to me because so many people stopped just to look at what we were doing, and a lot of them even got out of the car just to help," Benn said.
MPWR also focuses on non-partisan voter registration. They have registered about 700 students, focusing their efforts at FCC and Fresno State.
Benn was born in South Central Los Angeles, the middle child of three and raised by a single mother.
She moved to Fresno a day after her high school graduation in June 2013 and attended Clovis Community College for a year, finally transferring to FCC during the fall of 2014.
Originally a child development major, Benn says she began to find herself after taking an African American studies course. It was there that she was introduced to PASU.
Embracing her African heritage has been a journey, Benn says.
"In high school, I always imagined myself when I walked around as if I was a light-skinned woman," Benn said. "It felt like if you were dark-skinned you weren't as beautiful and I never viewed myself as beautiful."
She condemns the media's eurocentric construction of beauty and says she wants to stop the negative way black women view themselves.
Benn says her mother is her driving force.
"She was a single mother, and she had a baby at 14. She had to drop out of high school," Benn said.
"Just to see many nights that I didn't have lights to come home to," Benn said, "where she had to warm the house with the oven."
Today her mother has her GED, associate's and bachelor's degrees, and is working on her master's.
Benn says the biggest lesson her mother taught her was,"to love yourself, and don't let the evil of the world tarnish your beautiful smile or your beautiful spirit, because they will always try."
As a senator, Benn says the title is irrelevant, it's the job that she's focused on.
"Being a senator is more about making sure that every student is represented no matter race or creed," she said.