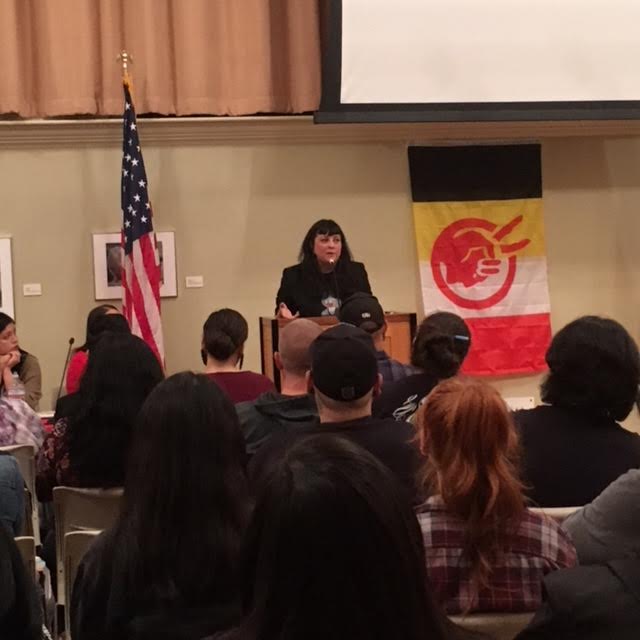 It was standing room only in the Skylight room of the Old Administration during a panel discussion of  "Missing and Murdered Indigenous Women" on Nov. 16.
The panel consisted of Regina E. Murillo, Tongya, Kumeyaay, Absentee Shawnee, Natalie Deanda and Siletz.  Marissa Diaz and instructors Bernard Navarro and Marisol Baca moderated the event.
Navarro, an instructor of American Indian studies, said in his opening remarks he hoped the event helps shed some light on the topic and helps people keep an open heart for Native American tribes.
"The violence has been happening since 1492, and has not stopped. We are still suffering under a system of white supremacy,"  Navarro said. "Indigenous women have faced an onslaught of violence that remains towards this day."
Many men have made their way into Native land, killing and raping these women, with little to no reports from the police, Navarro said.
Navarro said his hope was to help inform those do not know of the missing and murdered indigenous women.
"We are here to pay our respects to the victims and families of the indigenous women who are still missing, and our sisters who have been murdered," Navarro said. "Maybe we could put our minds together to do something to end the violence and hatred towards indigenous peoples."
Despite the serious topics, the audience was entertained by hand-drum singers and dancing. performances showcasing the Native American Heritage.
The dancers performed a Jingle Dress dance, also known as the Healing dance, which is usually done during a pow wow, which are social gatherings in the Native American community.
Marisol Baca, English instructor and author, spoke about the sadness and sorrow of the Native American families who have had to go through so much pain. Baca had written a poem specifically for this event for the women who are missing and presumed dead.
"It is as if the family members and the women and children spoke to me and I couldn't stop writing," Baca said.
Some in the audience said they were so touched by the poem, it brought tears to their eyes.  The anger and sadness in their voices made the whole room quiet with tears.
After the panel, everyone in the room was invited to a silent candlelight vigil walk to the Yokut Plaza near the Theater building, to honor the memories of the missing and murdered indigenous women.
The discussion which started at 6:30 p.m. and ended at 8 p.m was presented by the American Indian Studies Department in honor of Native American Heritage month.
"Changes cannot be made until we stop being silent and talk about these problems," Navarro said. "We need our communities to get organized and deal with the violence head on. I want my kids to be safe and feel safe, so my hope is that we will create a better future for all our children."