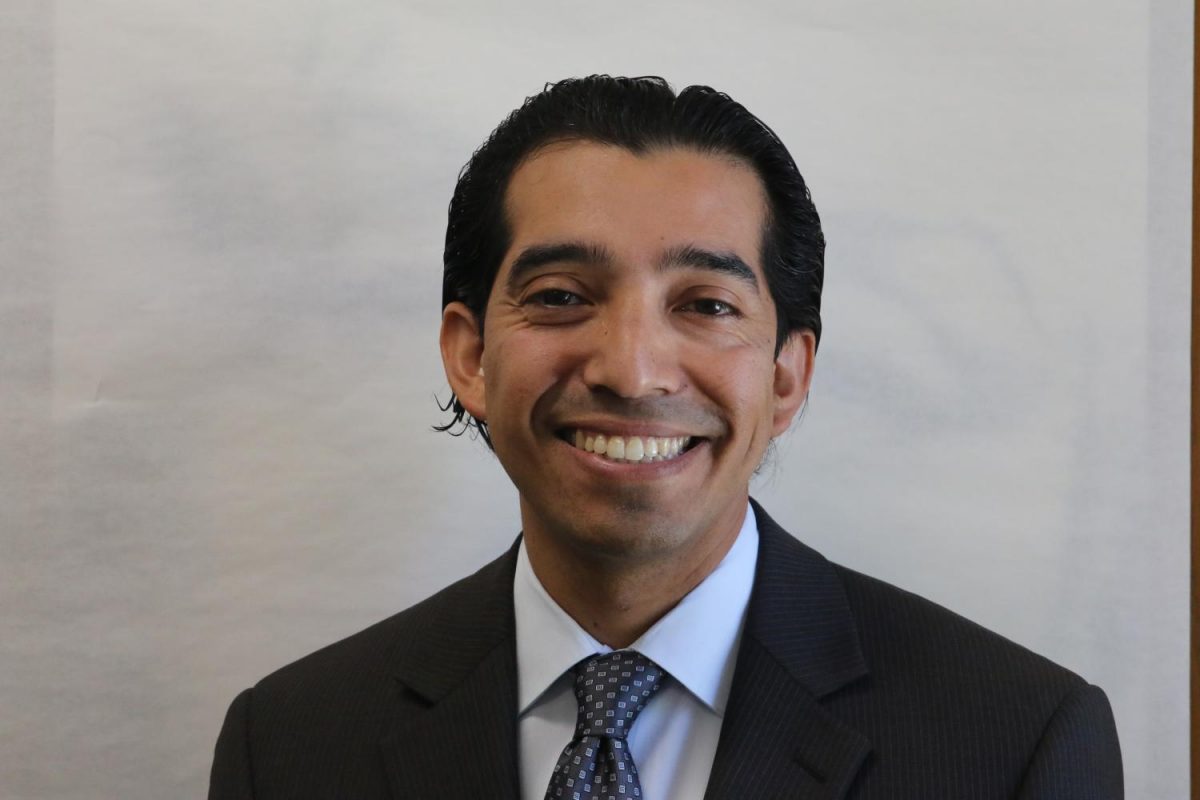 Photo by: Jorge Rodriguez
Rico Franco: A non-traditional Candidate
September 26, 2017
Most Americans may have the word election in the far back region of their minds. After all, we just elected a new president.  
However, candidates for the 22nd Congressional District, which encompasses parts of Fresno and Tulare County, has already begun their campaigns.
Among the Democratic candidates hoping to oppose current Republican Congressman Devin Nunes is Ricardo Franco, a first time candidate who graduated from Clovis High School and the Wharton School of Business at the University of Pennsylvania and is a business consultant.
Franco has helped Silicon Valley startups and small tech companies distribute their products throughout the nation and internationally, helping them maximize their profits.  
He has also never held or run for public office, not what one may call a career politician.
He was raised in a middle class home by hard working Mexican American parents who had him cared for by a Uruguayan couple most of his childhood.
Franco says his diverse upbringing gives him a sense of how everyone's life in the community could improve and that he is motivated to run for Congress in order to serve the community he and his family have lived in since 1912.
"I think Washington has been doing a disservice to this area, and we've been neglected for quite some time," Franco said.
Franco's campaign focuses on many issues that can affect everyone in the valley, like environmental and agricultural legislation.
"We have to look at making sure we can preserve our environment," Franco said. "But you can be pro agriculture and be pro environment."
He pointed to the recent wildfires that posed a serious threat to many valley residents and their homes as an example of something he hopes to help prevent should he be elected.
"There's a lot of dead trees in the area," Franco said. "There are lots of people against logging for any reason, and we have to clear some of those things out."
He would also like healthcare for all Californians but believes there is a more economical middle ground than The Affordable Care Act.
"ObamaCare has its flaws, and we should be fixing that, but not at the expense of people," Franco said. "Medicare for all doesn't mean a fully state-run healthcare system."
Franco is adamant that through a slow and measured transition, so as to not to cost people their jobs or disrupt industries, this system could potentially be offered throughout the nation.
His business background makes him an economically conscious candidate; therefore he is very outspoken about the financial aspects of legislation.
He spoke about President Trump's financial plan to bring several manufacturing jobs back to the United States for working class Americans.
"I applaud his effort to try to keep paychecks flowing for these people," Franco said. "What I question is the long term sustainability of those jobs."
He also points to the coal industry as a prime example claiming, "for every coal job there are 10 clean energy jobs."
Franco says that it is in America's best interest to make the transition to clean energy to provide a better environment for people and will last much longer.
"Globally, many countries are making the transition to clean energy," Franco said.  "That's where the money is."
For all his expertise and willingness to contribute as a possible congressman, this is still Franco's first run at public office, he does not have the financial support or notoriety of other candidates.
"A lot of people don't even realize that there are campaigns happening right now…I have to knock louder on doors and move to the front of the line sometimes," Franco said.
He is backed mostly by people he has been able to motivate in his speeches in Fresno, Tulare, Hanford and Madera.
Franco claims these people are farmers, students, community leaders and average people newly motivated to vote after the 2016 election who agree with his "progressive values."
"People tend to think that progressive values are values that are far left," Franco said, healthcare for all, comprehensive immigration reform, practical environmental and agricultural reform, business and worker friendly tax reform, and veterans affairs are some of the few progressive ideals Ricardo Franco claims to be passionate about.
It is still unclear if Franco can be the change he promises to be in the valley, or if he is even a good fit in the minds of voters.
However, this first time candidate is hopeful that he can convince voters he is everything he claims to be and that he has the best ideas for the valley.