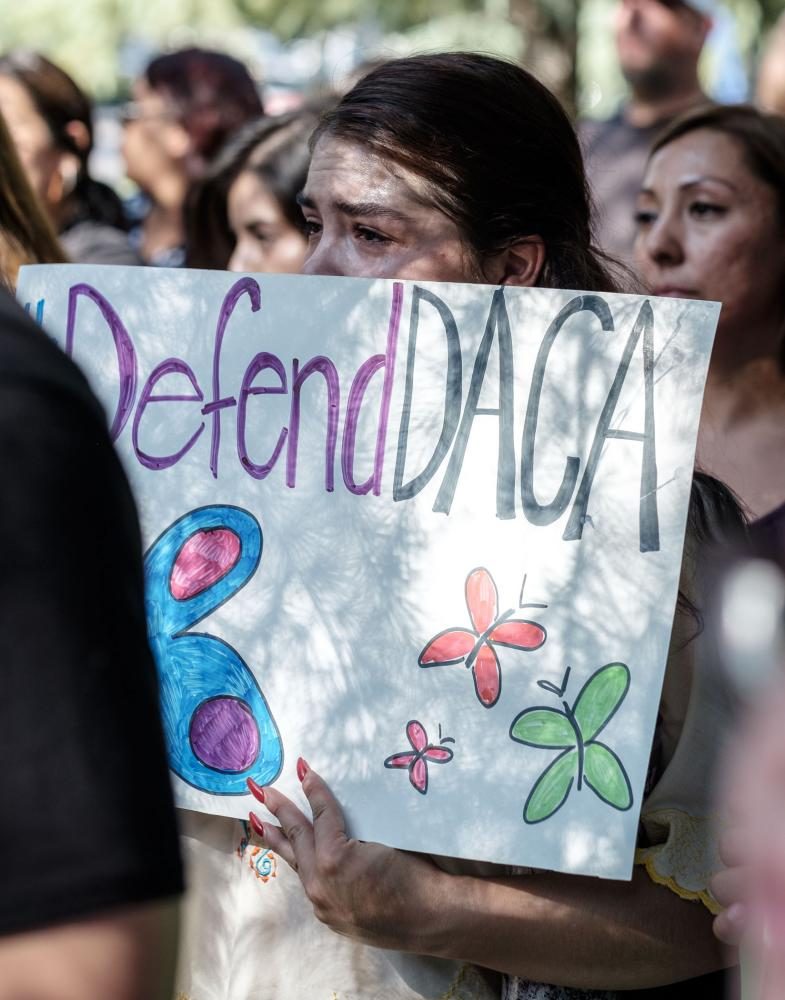 Ram Reyes
Community college leaders announced Tuesday that despite President Donald Trump ending the Deferred Action for Childhood Arrivals program, they stand behind the more than 1,200 DACA enrollees in the State Center Community College District.
"Ending DACA is a heartless and senseless decision that goes against American ideals and basic human decency," said California Community Colleges Chancellor Eloy Ortiz Oakley in a statement. "Those who are affected by this decision were brought to this country as children and are pursuing an education and making contributions to their communities. In California, we don't put dreams — or Dreamers — on hold."
FCC's Dream Center, which assists undocumented students with counseling, has been busy all Tuesday with worried students, according to counselors. The center moved over the summer from the Student Services building into a new space in OAB 137. The center said in a statement that it has heard concerns from students, but wants them to know it is still open. "The Dream Center at Fresno City College understand[s] your concerns," the statement read, "… and will continue to be the supportive environment it was intended for."
The center said it was handing out flyers with information for undocumented students, similar to one released by the Immigrant Legal Resource Center.
One of those 1,200 dreamers in the district is a 20-year-old biology major at FCC, who wished to remain anonymous for her safety. She said she arrived to the U.S. from Mexico when she was 3, and feels she belongs in the country as much as anyone else. "I am Mexican but this is my country too," she said. "Others with much better opportunities than I have waste their time in drugs and commit crimes. I don't feel like that's right."
She was recently offered a managerial position at her job, which she's held since she filed for DACA in 2014, and she's attending college to become a sonographer.
The woman is eligible to renew her DACA status once more before the deadline on Oct. 5, but after that, her future is up in the air. "It's sad to know that after those two years are gone I won't have any help," she said, "and that means I'll probably have to be working in the fields and probably give up school."
The woman said she'd like to at least see DACA become permanent. "A pathway to citizenship would be the best thing ever," she said.
The program has helped nearly 800,000 undocumented young people to work, live and attend school legally in the U.S. since 2012, according to U.S. Citizenship and Immigration Services. No new DACA applications will be accepted as of Sept.5, according to the USCIS, but those who have their DACA status expiring between Sept. 5 and March 5 are eligible to renew by Oct. 5.
SCCCD chancellor Paul Parnell and Fresno City College president Carole Goldsmith also released statements regarding DACA.
"We have witnessed [DACA's] success with those who have proudly served in the U.S. military and those who have graduated from college and are contributing to our economy as well as enriching our communities," said Parnell. "We will actively advocate Congress to find a permanent resolution to this issue."
Goldsmith said in a college-wide email that she also stands behind DACA students. "The truth is, DACA works," she said. Goldsmith said she wants to see legislation that "includes protection for DACA as well as creates a pathway for citizenship to ensure those that seek to live the American dream can live it and achieve it as so many others have before them."