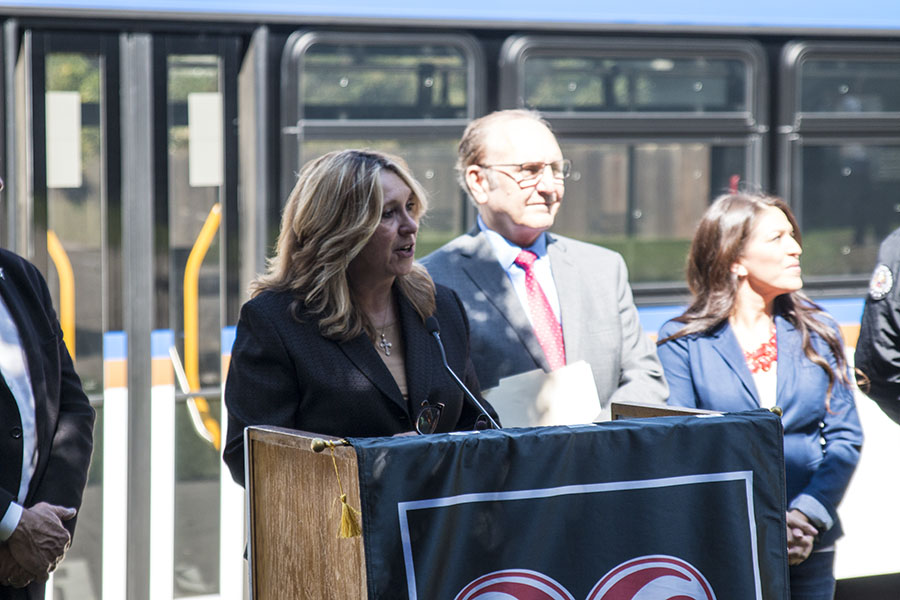 Larry Valenzuela
Starting in the fall, students will now be able to use their associated student body ID card to get free bus rides to anywhere in Fresno.
Students who are in good standing and purchase an ASB card can ride the Fresno Area Express anywhere in the city using the card as their pass, FCC president Carole Goldsmith announced during a press conference Tuesday morning.
An ASB card costs $5 and can be purchased in the student activities office beginning Aug. 14.
Goldsmith says she hopes students getting the passes will help alleviate both the parking issue and reduce the campus' carbon emission.

"Fresno City College has over 30,000 students come to this campus annually, and that puts a large demand on our parking,' Goldsmith said. "That also puts a lot of carbon emission in the air and that made our students and staff ask, 'What can we do to reduce our footprint?'"
Goldsmith goes on to say that with the collaboration of college staff, district staff and the associated student government, they were able to come up with the solution of giving students the bus passes.
Fresno mayor Lee Brand and City Councilmember Esmeralda Soria also spoke at the the press conference, highlighting that this would be a great opportunity to help with the parking problem.  
FCC Vice Chancellor Christine Miktarian said the idea had been around for awhile and that with the upcoming construction of solar panels in the parking lots, the staff was looking for a solution to the parking problems that would come.
"Everything just came together," she said. "We found a way to take care of the issue and not have to charge students."